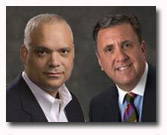 SEE RELATED POST: Cygnus Co-CEOs in Penthouse Meeting
Cygnus Business Media, one of a dwindling number of old-line multi-market b-to-b publishers that has not had layoffs in recent months, is bucking the soft M&A market and exploring a potential sale, its co-CEOs, Tony O'Brien and Carr Davis [pictured right], told FOLIO: Wednesday.
Speaking during an interview in New York, Davis said the company, owned by the private equity firm ABRY Partners, has been approached with inquiries and is exploring "a process."
Cygnus went on the block in 2006 but subsequently pulled off the market that year.
Davis framed the potential divestment carefully, saying that ABRY had not put the company on the block, but rather was responding to inquiries. "There is no sale because there is no buyer," he said. "There was an indication of interest and we are pursuing it. The reason for the interest, we heard, is because of the innovations we've done."
Davis said the company increased e-media revenue by 60 percent from 2006 to 2007, and from 4.5 percent of total revenue in 2006 to 10 percent of total revenue in 2007. "Getting that number to 15 percent is as good a target as any for the short term," Davis said.
Cygnus has been buffeted by several high-profile departures in recent months, and a lingering morale challenge stemming from companywide salary cuts last September. (Among the departures were key staffers from the company's aviation
division and Shari Dodgen, who was one of the company's five brand
directors.)
But Davis points out that even though salaries were reduced temporarily, the company's headcount remains the same.
Cygnus has about 60 magazines and Web sites, and generates about $120 million in annual revenue.