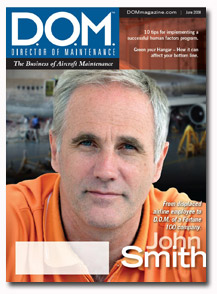 EXCLUSIVE
Less than a month after resigning from his post as Cygnus Business Media group publisher, Greg Napert is launching a trade magazine that will compete for advertising dollars with the company he left.
Director of Maintenance, which targets aircraft maintenance business leaders, will be published by Napert and three of his former colleagues from Cygnus' Aircraft Maintenance Technology magazine—including publisher Danny Faupel, editor-in-chief Joe Escobar and salesperson Bob Graf. All four left Cygnus on the same day.
The first issue is to be mailed in early July with an initial print run of 20,000.
At Cygnus, Napert served as group publisher for Aircraft Maintenance Technology, Airport Business and Ground Support Worldwide magazines, and founded Cygnus' AMT Society, a group for aircraft mechanics.
Napert did not sign a non-compete with Cygnus, he tells FOLIO:. A Cygnus spokesperson did not immediately return a request for comment.
"Although the reasons we left AMT are many and personal for each of us, we saw this launch as an opportunity to grow personally and professionally," Napert said in a statement.
"More importantly," he continued, "we saw an opportunity to help those that wish to market their products and services to the aircraft maintenance industry make better use of their marketing dollars by more effectively targeting important aircraft decision makers."
Napert isn't the first ex-Cygnus employee to launch a competing product. In 2005, Mike Domke—a former publisher of Cygnus' OEM Off-Highway magazine—launched Milo Media, which now publishes eight magazines covering the construction, industrial, power, lifting and utility markets. In November, Domke hired former Cygnus staffers Wolfgang Neuwirth and Greg Gerber to launch RV Industry News. Neuwirth had served as publisher and Gerber as editor of Cygnus' RV Trade Digest.