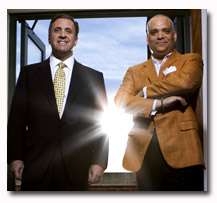 SEE ALSO: Cygnus Freezes Salaries
Carr Davis and Tony O'Brien, the co-CEOs of troubled Cygnus Business Media, are today officially ending their two-and-a-half-year run as heads of the company, sources told FOLIO:. An announcement was sent to staff this morning.
Davis and O'Brien [pictured] will be replaced on an interim basis by Charlie Carnaval, an executive with Zolfo Cooper, a New York-based firm that specializes in corporate restructuring and interim management solutions.
"Charlie has been working with me as part of my transition, and he has met with many of you during the most recent 2009 budget meetings," Cygnus CFO Jim Ogle told the company Wednesday morning in a memo. "We anticipate this support until a transaction has been completed and a long-term plan can be implemented."
One name that has surfaced as a possible Cygnus CEO is John French, who left Penton Media earlier this year after a stint there as chief executive. Ogle himself is leaving Cygnus to join F+W Media as soon as the transition to a new permanent CEO and new owner is complete.
Sale Update
Meanwhile, the long process of attempting to divest Cygnus may be close to a conclusion, although not in the way current owner ABRY Partners anticipated. In his memo to the staff, Ogle said a debt-restructuring and change-of-ownership deal will be concluded early in 2009.
One goal in the negotiations is to restructure Cygnus' $185 million in debt, of which about $158 million matures in 2009 and $9 million in January. A source familiar with the negotiations said the restructuring will mitigate those debt terms and thus avoid bankruptcy for Cygnus. "Getting a solution done is what we have been doing the last six months and it will be finished shortly," the source said.
If the transaction goes through, ABRY, a Boston-based private-equity firm, would be relinquishing Cygnus to GE Capital, which is the primary debt holder, rather than selling in the more familiar use of the term.
If that occurs, it would be the second takeover of a publishing company by a lender in a month. In mid-December BIA Digital Partners acquired the assets of Richmond, Virginia-based newsletter and trade magazine publisher Douglas Publications and is changing its name to Briefings Media Group.
Cygnus, with revenue in the $120 million range, has turned out to be a highly problematic investment for ABRY. It was acquired in 2000 for $275 million, and in the subsequent three years ABRY spent about $100 million more adding additional businesses. It was put on the block in 2006 but taken off because of poor prospects. Ironically, Cygnus is a profitable company with strong margins and significant e-media growth in recent years.
A Tenure Marked by Turmoil
Davis and O'Brien came to Cygnus in August 2006 from a small content-marketing company. ABRY said at the time that Cygnus needed Davis and O'Brien because of their experience in technology and content management.
"The way we have come to think about Cygnus, like other b-to-b companies, is as a content company distributing content through multiple channels," ABRY managing partner Peggy Koenig said in 2006. "The opportunity is to take content and distribute it to consumers in the way the consumer wants to receive it. This is right up their alley and is the way we think you need to grow a b-to-b company."
But Davis and O'Brien's tenure was marked by turmoil. By many accounts they never effectively connected to the entrenched print publishing culture and were not fully accepted by large parts of the rank-and-file. Late in 2007, they set off an outcry within the company by slashing salaries for most workers. They also engineered a major internal restructuring that alienated some staff, causing departures by key executives.