Cygnus CEOs Assess Their Tenure

On eve of sale, "captains of the ship" see progress made.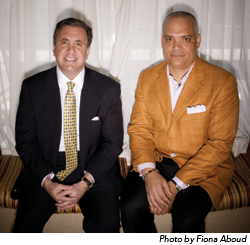 When ABRY Partners decided in the middle of 2006 to take Cygnus Business Media in a new direction, putting the $120 million company under a pair of co-CEOs, it surely didn't anticipate the angst that was to come.
Cygnus—which by most accounts is close to being sold as this issue of FOLIO: goes to press—has endured as rough a stretch as a company could over the past two years. Consider:
• The company—which has changed ownership three times since 1997—is one of a declining number of multiple-market print-centric b-to-b publishers, all of which are threatened by the shift of readers and marketing dollars online.
• The co-CEOs, Carr Davis and Tony O'Brien, were not familiar with old-line b-to-b publishing when they were named to their post in June of 2006, having come from a much smaller, $7 million content-sales company.
• In an industry where the strength of the product depends overwhelmingly on the people—their relationships and institutional knowledge—Cygnus has experienced a significant exodus of talent over the last couple of years.
• The company suffered a blow to morale last September when it announced salary cuts for most employees. The cuts were mostly restored by the first of the year, but ill-will lingers.
• S&P earlier this year adjusted Cygnus' credit rating from stable to negative. S&P cited Cygnus' limited liquidity, high debt leverage, small EBITDA base and what it calls "difficult business fundamentals." It also called Cygnus' margin of compliance with covenants "very thin." A key challenge for Cygnus, according to S&P, will be refinancing $157 million in debt that's due next year.
Despite all this, Davis and O'Brien are bullish about their two-year tenure and about the future, saying they've taken the company through a period of necessary change that has strengthened it, especially in the area of e-media. What's more, they point out, despite the changes, they've held headcount steady without resorting to the layoffs many of their peer companies have implemented. Now the company is in conversations with potential buyers, and current owner ABRY Partners is presumed to be anxious to divest the company it bought in 2000 for $275 million. A deal was said to be in the advanced stages at presstime.
FOLIO: recently spoke to Davis and O'Brien about all these issues. Following are excerpts.
FOLIO:: Tell us about the state of the company.
Davis: Progress continues to be made in the right direction in a difficult time. In 2007, we grew interactive revenue by 60 percent. Ten percent of our overall business is now interactive, up from 4.5 percent when we took over the company.
O'Brien: We want to get it higher.
Davis: We focus our efforts on getting our customers the media solutions they're asking for. The more you drive traffic to your Web sites, the more it makes it compelling to advertise.
O'Brien: One of the most gratifying things we've done is make huge strides in pre-booking.
FOLIO:: What e-products are driving growth?
O'Brien: We've found that Webinars are a growth tool.
Davis: We've doubled the number of Webinars that we sold in 2007—over 100 this year compared to the fifties in 2006. The growth areas we've seen continue to be in the interactive area. And here's what's really growing: An integrated package that includes print, interactive and expos. Even interactive won't grow much without having a good print product.
FOLIO:: What is the company's overall revenue mix?
Davis: Twenty percent of revenue is from expos. Ten percent is from e-media. The rest is from print and custom publishing.
FOLIO:: How big do you want the interactive revenue stream to be?
Davis: About 15 percent. We're at 10 percent now and 15 percent is as good a target as any for the short term. We'd like it to be even bigger than that.
FOLIO:: You're a $120 million company. How do you project topline growth this year?
Davis: We're not discussing projections at this juncture.
FOLIO:: Are you feeling the impact of a soft economy?
Davis: There are going to be fluctuations. Both Tony and I feel the first half met our expectations. We continue to grow in the online area. We grew in the amount of customers who are buying interactive from us. We grew by 1,500 customers from 2006 to 2008.
FOLIO:: What about the S&P report suggesting worrisome business fundamentals?
Jim Ogle, Cygnus CFO: While the debt load is higher than S&P prefers, we are no different than many of our industry peers in terms of leverage multiples. Obviously, the credit environment has changed dramatically from when the company was last financed. However, we have a good relationship with our bank and ample liquidity to operate the business.
FOLIO:: You say you've reallocated people but not reduced the company's headcount. How?
Davis: From a headcount point of view, we're essentially the same. We have about 600 people in this company. It may not feel that way to certain people. As the captain, I have a sense of what's going on for the whole ship. But as we've evolved, we needed to make investments in the interactive department. For example, we did a lot of hiring of interactive product managers—people we placed between the sales force and the technology people. And it's interesting what skills they need: They need to be affable enough to sell and technical enough to interact with the technology people. We've hired about eight of them.
FOLIO:: How many of the Cygnus brands are ones and twos in their markets?
Davis: A majority of them. There are always exceptions of course. In certain cases, like in public safety, we totally dominate. I'm happy to say we have some franchises like that.
FOLIO:: Which brands are the company's growth leaders? Which are driving that e-media growth? Where are you looking for growth next year?
Davis: Our shelter group is a leader, but we're having a hard time in that industry this year—the whole industry is struggling. But it has been and continues to be a growth area for us. Security and certainly public safety is a growth area for us.
FOLIO:: Describe the impact of your tenure as co-CEOs.
Davis: It's been an opportunity to add value to a great company. The way we do that is by continuing to focus our efforts on making all three areas grow.
O'Brien: We've tried to build up the infrastructure in both technology and in people.
FOLIO:: What have you learned along the way?
Davis: The value of the business was always in the brands, and the opportunity is to build on those brands.
FOLIO:: What are some of the key areas of innovation?
Davis: We've focused on the Hispanic market as a growth area, particularly in custom marketing. Another key initiative is the ad network, BBN, which we developed with 24/7 Real Media and three other publishers—McGraw-Hill, Reed and Nielsen.
FOLIO:: Last year you reorganized dramatically, eliminating a slew of senior-management positions and organizing the company around five brand directors. How has that worked?
Davis: I think the results are very successful. We pre-booked more revenue in interactive for 2008 than we did in the entire year of 2006.
O'Brien: While we have fewer vice presidents, we have more brand directors in the trenches.
FOLIO:: One of your brand directors, Shari Dodgen, responsible for custom marketing and considered one of the company's superstars, recently left. Why?
Davis: We don't comment on any personnel issues, but we feel that the work we are embarking on in custom marketing in the Hispanic market is something that will serve us well.
FOLIO:: The blogs are filled with vitriolic comments about Cygnus. Why the extraordinary level of emotion directed at this company and at both of you?
Davis: Our company and our industry are in transition. Our business is one that has to be very forward looking. Our decisions are made so we can keep Cygnus growing. It's important to have good morale for the future. The fact that the company grew revenue by 5 percent and interactive by 60 percent bears out the decisions we've made. The company's growth and future are secure.
O'Brien: It's hard to attribute motivations to people who are posting things anonymously.
FOLIO:: You sued several former employees who left Cygnus to form their own company. Doesn't that come off as bullying?
Davis: Cygnus like any other company will do everything we can to protect its assets.
FOLIO:: Is there anything you'd do differently?
Davis: We have to acknowledge that the trade press is no longer the default position for marketing for most of our clients. The sooner you acknowledge that the more focused you can be on helping your advertisers tell their story through your products. Here's my analogy: When you and I were growing up we all defaulted to three TV stations. Today there are 150. In b-to-b, marketers had nowhere to go but the b-to-b press. But we're not the default anymore, because marketers can tell their own stories on their own Web sites.
SIDEBAR:
Cygnus Likely to Sell for Less Than What Was Paid in 2000
Cygnus Business Media is in the late stages of a sale by ABRY Partners to some new owner. If the company does sell, ABRY will have divested what has become a deeply problematic investment in recent years. ABRY bought Cygnus in 2000 for $275 million and subsequently went on a campaign of 14 bolt-on acquisitions over the next several years that added tens of millions of dollars in new investments in the company and effectively raised the transaction price at which ABRY would break even on divestment.
When Cygnus was pulled off the block in 2006, a source at the time said the price—reportedly about the same as ABRY paid in 2000—was not enough.
Now, though, ABRY is likely to get less than that $275 million transaction price, according to a knowledgeable source. "ABRY is about an eight-times company," the source said, meaning that the company's perceived value is about eight-times earnings, which are reportedly about $30 million. "But no one believes Cygnus is generating $30 million on an ongoing basis. Many of their properties are understaffed. It's more like $25 million, and eight-times that is $200 million," the source contended.
Following is a review of the add-on acquisitions Cygnus made following its acquisition by ABRY in 2000.

• December 2000: Acquires Locksmith Publishing, adding two print magazines, two Web sites and a trade show.

• January 2001: Acquires remaining 51 percent interest in Spencer/Cygnus Regional Print Network, a group of regional printing magazines.

• June 2001: Acquires Design/Build Business magazine and Web site.

• October 2001: Acquires GSE Today magazine, Web site, and trade show.

• November 2001: Acquires Professional Tool & Equipment Distributor.

• May 2002: Acquires Frozen Food Age and Food Logistics magazines.

• June 2002: Acquires Vulcan Publications, with eight publications and their related properties in the construction and industrial markets.

• August 2002: Acquires AS3, an Aviation Services and Suppliers trade show.

• November 2002: Acquires The Fire-EMS Information Network, a Web portal.

• January 2003: Acquires Professional Trade Shows from Penton Media, adding 25 regional industrial trade shows in 22 states serving four markets.

• February 2003: Acquires the Solid Surface International Trade Show and Expo.

• May 2003: Acquires Finishing & Restoration magazine.

• August 2003: Acquires Asphalt Contractor magazine.

• February 2004: Acquires The CONEX series of eight regional building and construction tradeshows and the New England Snow & Ice Removal Show.
Meet the Author
---