Cygnus Business Media: Firehouse World

A new focus on programming and cutting exhibitor costs brings growth back.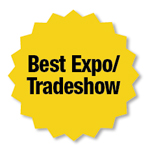 Firehouse World—an event that offers training, equipment and education for the fire service—was acquired by Cygnus Business Media about 11 years ago and following a tough market in 2007, which saw the down economy hit the public safety market particularly hard, the company has been reinvesting in the brand and slowly putting it back on a growth path.
That reinvestment has focused on two key areas: Attendee education and special attention to exhibitors in the form of better cost-saving initiatives. The curriculum is being expanded to appeal to younger firefighters and students, and the event now features a shorter exhibit hall timeframe.
The event has a regional focus, largely Southern California, with the 2013 event taking place in the San Diego Convention Center.
"In the past two years we have been reinvesting in the property," says Ed Nichols, vice president, events, public safety and security. "It serves primarily Southern California and we're planning to expand it to Northern California as well."
Nichols says the event moved in 2013 from a three-day show floor to a two-day show floor, which helped dramatically cut costs for exhibitors. Two years of working with the exhibitor advisory board, says Nichols, has helped the show lower exhibitor costs by 20 percent.
On the attendee side, the focus is now on growing the younger attendee base. Nichols says firefighters are retiring at a younger age these days, which results in attendance churn. Accordingly, his team has been working on new curriculum and programing initiatives to attract a broader attendance base.
"We developed a senior/chief-level program, with a lounge and a series of complimentary classes specifically for the chief level," he says. "They're identified by a specific lanyard and we grew that number by 11 percent year-over-year from 400 to 450. At the same time, we do understand we have to begin cultivating our audience for tomorrow starting now. We're seeing some people retire out as early as 12 years."
Younger firefighters are being wooed to the show through a new Future Firefighter Experience program that's specifically targeted to students. "Now we want to take these folks from school and take them through our curriculum," adds Nichols.
The Future Firefighter program offers a series of free classes—such as "Getting Hired as a Firefighter in 2013" and "How to Master the Fire Service Testing Process"—that provide instruction on the hiring and testing processes, as well as equipment training.
Creating a Curriculum That Addresses an Entire Career
The end result is a curriculum that begins at the student level and ends with sessions specifically for the chief level. The strategy has begun to address the entire arc of the firefighter's career and, says Nichols, has helped make the event a more integral element in the attendee's professional development. "We want to take them as a student and prepare them for battalion chief and then graduate them into our chief's program. We've got that vision and now we just need to pull people through that funnel," he says.
The reinvestment has paid off, not in big numbers necessarily, but attendance grew four percent in 2012 and edged up slightly again in 2013 by one percent. About 5,000 attendees were at this year's show, along with 250 exhibitors on 80,000 square feet of show floor space.
Meet the Author
---