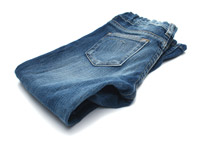 Here's something fun to chew on over the long holiday weekend:
The human resources department at Cygnus might have stumbled upon the as-yet undiscovered key to increasing the bottom line: Wearing jeans … on Tuesdays.
According to an e-mail sent to staffers this week from HR vice president Judy Heidebrecht, employees will be permitted to wear "nice" jeans to work next Tuesday, May 27—as long as they are "even more productive."
So, trade in your suit pants and skirts, folks. Jeans = productivity!
Here's the e-mail:
From: "Judy Heidebrecht"
Date: May 22, 2008 7:08:47 PM EDT
Subject: Blue Jean Tuesday

At the request of a few people who said they would be even more productive if they could wear blue jeans more often . . . we've agreed to test that theory!

Next Tuesday, May 27, will be a casual day, so feel free to wear nice jeans, just like you would on Friday.

Now, here's the deal. If the folks who were preaching productivity-in-denims are correct – we could have more casual-wear-days more often. Let your co-workers and supervisors know what you think!

Mike, Dave, Judy