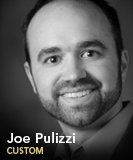 Most Publishers I talk to think that by adding one or two people to the organization and declaring "custom publishing is open of business" that they are well on their way to success. Unfortunately, it's not that easy, and an approach like that can do more harm than good for the entire organization.
Avoid these mistakes to ensure success for your custom publishing program:
Using the Same Business Model
The majority of publishers that run their custom publishing department like a magazine are usually the ones scratching their heads wondering where the growth is. Successful custom media units, like Hanley Wood Marketing and Penton Custom Media, recognized long ago the need for a separate entity with a different business model.
A custom unit runs much closer to an ad agency model than a publishing model. The customer requirements and marketing expertise levels aren't in the same ballpark.
The repercussions are also too high to make a mistake in this area. If a traditional magazine contains a spelling or factual mistake, the fix is either nothing or a note in the next issue. If an ad is wrong, a replacement "make good" should do the trick. If there is a mistake in a six-figure custom client magazine, you fix it and eat the costs, which may mean reprinting the entire publication. Whether the customer signed off on the project doesn't matter…the final product is your responsibility.
Perhaps the biggest change in the business model is how you figure the margins; how to make sure you make a profit on a project; how much to mark up costs; how to show "pass-through" costs like postage; the various services provided to make a profit on a project basis. In the early days of Penton Custom Media, I once had an executive that tried to break our services down into "pages" so that he could forecast our results like the other magazines. What a waste of time that was.
Account Management as a Side Job
The biggest area that most publishers fail is with a lack of account management support. At Penton, we used the account manager position as a competitive advantage over other publishers who assigned editors, production staff and even sales people to head up the custom project.
The account manager IS the publisher for that particular project, and is responsible for knowing everything, including if the project is meeting or exceeding expectations, the ongoing project budget, and where new opportunities exist to grow the business.
Lack of Sales Ownership
When publishers launch a custom unit, they usually bring in a sales savior. Most times, this person is seen as competition to the traditional sales reps, who often work against each other. Since the custom rep has no authority over other brand reps in the company, the business stalls.
When an outside player is brought in to run the unit, key reps on each of the brands need to be responsible for custom. Those people then need a side report to the publisher overseeing custom. Magazine reps also need some kind of budget projection for custom.
Editorial on Magazine Staff
At first, it's glamorous to think that the chief or senior editor of the magazine brand can also work on custom projects. Glamorous and dangerous.
Outside of the editorial church/state issues that arise from this, overseeing editorial for a customer project is a full-time job in and of itself. We used to sell against this big time with statements like, "at the end of the day, your editorial is not the magazine editor's primary responsibility, it's the magazine." This is a true statement. The customer's objectives need to come first.
Combining Production
For traditional print production to work, timelines needs to be maintained. This is exactly the reason why the custom process won't work within a traditional magazine production environment. Customer approvals and changes require constant movement in the production schedule.
The same goes for Web development. Inserting this type of chaos in a traditional production environment will throw your staff into a tailspin.
Knowledge of how the custom business is different from traditional magazine publishing will not only lead to growth but could save you from going down a deep, dark path.
Joe Pulizzi is founder of Junta42 Match, a free online service for businesses to find content vendors. He is also co-author of the book, Get Content. Get Customers., which shows businesses how to create their own content marketing strategies. He can be contacted directly at joe@junta42.com.