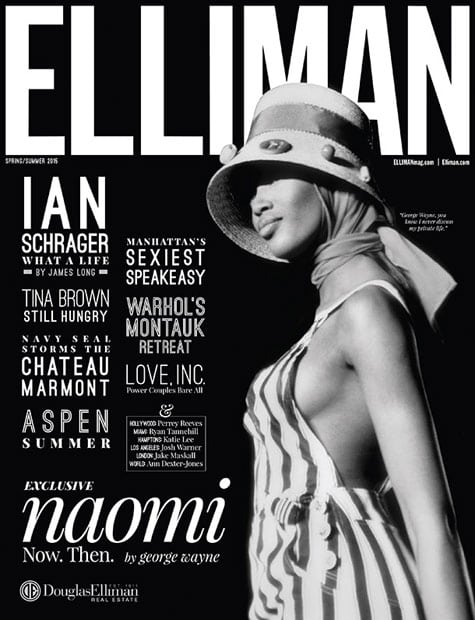 Scores of companies market their wares through self-published "magazines" that are little more than thinly veiled promotional catalogues. Call them magalogs or whatever you like. Some are fairly sophisticated packages, artfully turned out, and you'd be forgiven for reading and maybe even enjoying a few pages. Just recently I received a couple of these—one from a national jeweler, another from a food merchant.
Then there's Douglas Elliman Real Estate, the ambitious titan headquartered in New York City. The company had a different idea: Publish an actual lifestyle magazine aimed at a demographic that shops for luxury homes—and bind a big, fat, to-drool-for properties section into the back.
It's essentially a discrete twofer, all for the price of—well, for the consumer, zip. It's swag. That is, unless he ends up springing for a mucho-million-dollar Douglas Elliman condo.
A novel idea, certainly, but Douglas Elliman has gone a step further. It has committed to two such magazines—Elevate and Elliman, each targeting a slightly different audience.
The man who runs both—and who brought the concept to DE—is Richard Pérez-Feria, a veteran editor (People Español, Gym, Celebrity Style, among others) whose natural affinity for the so-glam style makes him the ideal guy to celebrate expensive real estate and the people who buy (and rent) it.
"Nothing's more joyful to me than doing this," he said to me recently when I phoned. Each copy of the these mags—they'll be published twice annually to begin—is assembled in a lower Manhattan skunkworks, where Pérez-Feria gathers what he terms his "Green Berets"—a team of seasoned magazine makers who are able to create 100-pages of glossy editorial, start to finish, on a ridiculous 28-day production cycle.
It's an act of courage. And balls. And precocity.
Because it turns out that these oversize magazines are better than anyone has a right to expect, given their provenance. Naturally, they are not at the level of a Condé Nast book. Who could possibly expect that? Still, there's a hint of Vanity Fair. Unlike VF, however, which has a huge budget (and seemingly bottomless pool of premium-priced talent), Elevate and Elliman concentrate exclusively on the good life. More like Town & Country, say. Or, according to Pérez-Feria, Condé Nast Traveler and Departures, which he views as models. The DE mags steer clear of politics and crime and all the cruddy stuff that sometimes comes with fame and riches. They do this on a decidedly non-Condé budget.
Nevertheless, there's enough cash to snag some high-profile writers: Kevin Sessums, David Ansen, George Wayne, as examples. These are names you may in fact recognize from Condé's sexy monthlies. Here you'll find them turning their attention to the arts, culture, big media, supermodels, architecture, and assorted hobbies that consume rich people's time and wealth.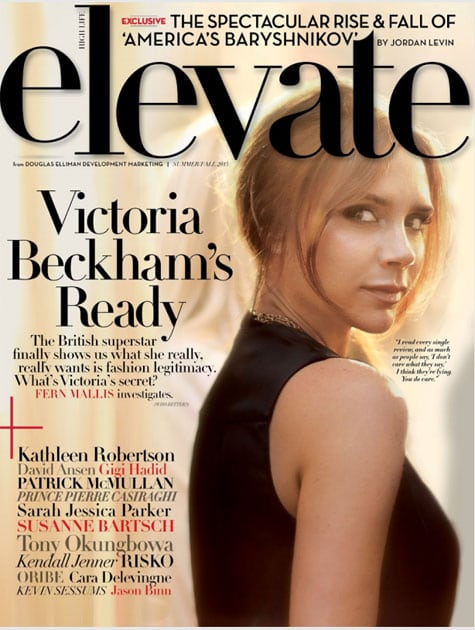 The writing (much of it in the first person) is generally brisk, the photography is big and lush, the layouts are mostly knock-out. All in all, this constitutes more than serviceable magazine journalism; this is fancy-schmancy stuff, particularly for a start-up.
Will these books be given time to develop and mature? Will its real-estate publisher keep the spigot turned on? Who knows, but let's be optimistic.
For his chance to shine anew, Pérez-Feria, the peripatetic editor, credits Nicole Oge, Douglas Elliman's global chief marketing officer. She's the exec who supported this experiment from the get-go. "She's just the best person I know," Pérez-Feria said to me. "She wants to create edit content for people who like luxury homes in places like the Hamptons and Palm Beach. She gets it."
In launching a new unit—Elliman Media—within the parent organization, Oge "took a leap of faith" on these books, Pérez-Feria said—and she's been willing to adequately fund both. It's a bold move, if not really much of a gamble.
How do the two books differ from one another? "The person who reads Elevate thinks they're going to land in New York and go straight to SoHo House," Perez-Feria said when we chatted. "It's a very specific lifestyle—people in their 30s and 40s who like urban living. And they spend a lot of money."
Elliman readers, Pérez-Feria explained, "are Elevate's crowd 6-7 years from now. The homes they are looking for are more stately." These folks, who are older, are not as drawn to downtown city life anymore. "They have rounder edges," is the way Pérez-Feria put it.
The most recent cover of Elevate features Victoria Beckham. Inside you'll find pieces about Kendall Jenner, Sarah Jessica Parker, and the artist Risko. Elliman, on the other hand, has Naomi Campbell on its cover, with takeouts inside about Tina Brown and the Greenwich Film Festival.
The differences are subtle, revealed as much in the overall tone as in story selection.
Both magazines include features about fabulous homes and hamlets throughout the U.S., but they are the kinds of stories you might rightly expect in a luxe lifestyle magazine. They fit in.
What you will not find in either of these magazines from Douglas Elliman is any editorial reference whatsoever to Douglas Elliman.
Perez-Feria boasts that "there's a hard wall between the front and back of the books. I'm the sheriff of integrity. This is not custom publishing."
Right now the media division of DE is trying to figure out a way to monetize its investment in the mags. There's no advertising, but sponsorships are under consideration.
Might these ever become national newsstand books? "Never," Pérez-Feria said. But don't rule out some targeted placement, maybe in New York, L.A., and Chicago. Meanwhile, distribution is chiefly through Douglas Elliman offices around the country.
How about combining the two titles into one, if only to simplify Douglas Elliman's publishing initiative? It could happen, Pérez-Feria said. Might DE co-venture with a print publishing company? "We're thinking of it, but we're not inclined."
At this point, Pérez-Feria is mostly concentrating on the quality of the books. He's worked for a bunch of publishing companies, sometimes only briefly, but he said his current assignment feels sticky. Elevate and Elliman could be what he's been longing for, creatively. "We'll be entering these books for all the major magazine awards," he said.
I think it's fair to note that these are not the kinds of books that most magazine makers dream about working on. They are compromised in the sense that their explicit underlying mission is to sell expensive real estate. But all magazines sell something. In the current publishing environment, one should welcome the introduction of Elevate and Elliman and thank Douglas Elliman for taking a shot.