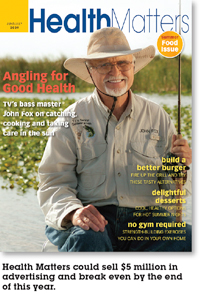 Project: Health Matters Magazine
Client: Liberty Medical Supply
Custom Shop: EPS Communications
Chances are you've seen the TV ads with actor Wilford Brimley touting the diabetes care equipment from Liberty Medical Supply. Even with the prominence of those ads, Liberty had a need for a print magazine.
"Liberty had a lot of success attracting customers but also a high rate of losing them," says Chris Leach, director of custom media at EPS Communications, a Woburn, Massachusetts-based custom publisher. "Not because they didn't like Liberty or the customer service or price, they just stopped taking care of themselves. Liberty needed to change that transactional relationship into a stickier relationship."
In 2007, EPS proposed a test of a couple hundred thousand copies. Liberty countered with a request for 1.2 million copies (and they wanted the launch issue out in six weeks). EPS published four issues of Health Matters in 2007, five in 2008 and plans nine for 2009. "The magazine appears to be a good acquisition tool and serves as a low cost acquisition vehicle," says Leach. Liberty spends $40 million a year on direct response TV and the typical customer acquisition cost is in the hundreds of dollars per customer.
Liberty and EPS are supporting the magazine by selling advertising and anticipate generating $5 million from the publication in 2009. "It's very much like the in-flight model," says Leach. "By the end of this year, the magazine should be self-sufficient and Liberty won't have to pay anything." Health Matters has attracted pharma advertisers such as Novartis and Johnson & Johnson and food brands such as Smuckers.
Low Brand Profile
Despite its role as a promotional vehicle for Liberty, the only place the client's brand is mentioned is on the masthead, according to Leach. The magazine mails 1 million copies per issue and MRI says the total audience is between 3.5 million and 4 million, thanks to public place distribution.
Next, Health Matters is also going online with HMDiabtetes.com, which is currently in beta, and heavy promotion for the site will begin toward the end of the year.
"Liberty is eager to deliver content to patients via their preferred channel—in some cases that is print and in others it's the Web," says Patti Cmielewski, senior vice president of strategic marketing at Liberty Medical. "The Internet provides an alternate mechanism for magazine delivery and extension of content at a lower cost. Further, Liberty wanted a pure educational 'go to' destination for diabetes—one that serves patients and prospective patients. Through this channel, we can deliver more information, more broadly, in a very nimble fashion."
Custom Profits
While Liberty owns the content of Health Matters, EPS will have the opportunity to create independent spin-offs. According to Leach, this is a model and a market that will yield something he says is rare in custom publishing: a profit.
"There is an argument about whether you can build a company publishing magazines that others own and I think the answer is yes," says Leach, who was the launch editor of business magazine Inc. and a veteran of custom shop Pace Communications. "When it's good, custom is very good and when it's bad, it sucks. This disease is not going away and we've got a client with a huge database. Unless you're working with an airline, most custom magazines don't make a profit. This one is in a unique position."