Cross-Platform Readers On the Rise for Consumer Mags

Time Inc. has largest percentage of print and digital readers, per Affinity.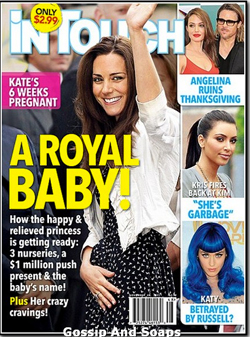 After all its efforts, the consumer magazine industry is beginning to see results of its cross-platform conquests. In Affinity's recent American Magazine Study, 12 magazine publishing brands were tracked. Audience consumption behaviors are categorized by print-only, digital-only and print and digital readers.
Time Inc., with a collective readership of over 114 million readers, has the largest crossover of included publishers: its 18 brands are read in both print and digital forms by 30 percent of its demographic. 55 percent only use its print products, while 15 percent digitally access Time Inc. content.
Wenner Media (publisher of Rolling Stone, Us Weekly and Men's Journal) has the largest digital-only readership of 27 percent. 55 percent of Wenner readers only use print products, while 18 percent of its 33.5 million readers utilize print and digital content. This is an interesting stat, considering owner Jann Wenner's take on the tablet push.
On the other end of the spectrum, Reader's Digest has the smallest amount of digital-only readers. 6 percent of its audience rely solely on digital content, with 85 percent still using just its print products. 9 percent of 45.3 million readers reportedly use both.
Bauer Publishing (despite its recent rate base cuts for In Touch and Life & Style) has the highest print-only readership at 87 percent. The publisher also has the lowest amount of users using both print and digital in the study, at 6 percent. A collective audience of 16.3 million readers engage with Bauer content.
Digital engagement includes websites, social networks, mobile devices and other digital delivery, according to an Affinity press statement. Online audience data was provided by comScore, Inc.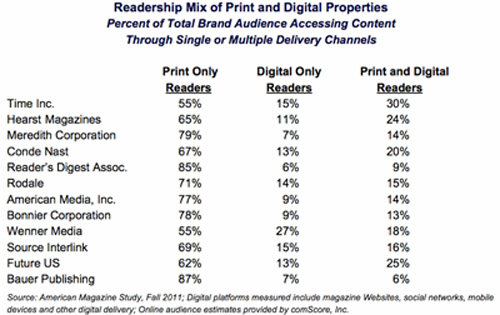 Meet the Author
---