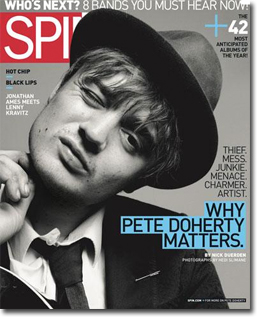 SPIN Media announced a new editorial lineup, specifically formed to better serve the cross-platform campaign SPIN put into effect with its release of the iPad SPIN Play app in March.
In alignment with this move, SPIN owner Nion McEvoy dismissed Doug Brod, who was editor-in-chief, and Malcolm Campbell, publisher, four years after hiring the pair, according to FOLIO sister site min.
Deputy editor Steve Kandell takes over as editor-in-chief, and Mike Albanese is now publisher. 
New hires include Jeff Rogers, a Silicone Valley vet who spent 12 years building "large scale web applications for Fortune 500 companies" according to a news statement, joins SPIN as digital general manager, a newly created role. Rogers will manage SPIN's digital business (including SPIN.com and mobile apps), as well as develop revenue and programming strategies.
Devin Pedzwater, who led the development of the SPIN Play app, will now act as the SPIN brand creative director.
Other moves include Charles Aaron, formerly music editor with the magazine, who will now act as SPIN's editorial director. He will be responsible for both print and digital properties in this new role.
SPIN Magazine sees ad pages fall 26.9 percent for the July issue in year-over-year comparison, dropping from 42.75 pages in July 2010 to 31.25 ad pages in July 2011.