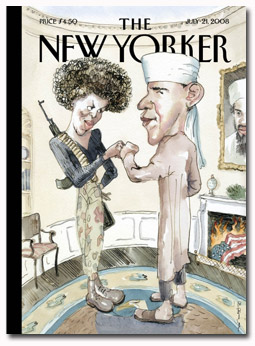 RELATED POST: Does David Remnick Have to Explain the Obama Joke? 
The New Yorker is facing a firestorm of criticism over a caricature of presumptive Democratic presidential nominee Barack Obama and his wife.
The cover of its July 21 "Politics of Fear" issue—hitting newsstands Monday—depicts the Illinois senator in radical Islamic clothing giving a so-called "fist-bump" to Michelle Obama, who is shown with a machine gun strapped across her shoulder. In the background, an American flag burns in a fireplace underneath a framed picture of Osama bin Laden. The cover was illustrated by Barry Blitt, who "satirizes the use of scare tactics and misinformation in the Presidential election to derail Barack Obama's campaign," according to a New Yorker press release.
"Satire is part of what we do," New Yorker editor David Remnick said in a statement. "And it is meant to bring things out into the open, to hold up a mirror to the absurd. And that's the spirit of this cover."
The Obama camp wasn't so sure.
"The New Yorker may think, as one of their staff explained to us, that their cover is a satirical lampoon of the caricature Senator Obama's right-wing critics have tried to create," a spokesperson for Senator Obama said in a statement. "But most readers will see it as tasteless and offensive. And we agree." A spokesman for Senator John McCain said they "completely agree."
In 2006, Remnick interviewed Obama at the American Magazine Conference in Phoenix, while Obama was contemplating a run for the White House. Obama told Remnick he wasn't sure he wanted to put his family through the scrutiny of a presidential race. "My wife would be leading the bandwagon for me to be running for president … if I was married to someone else."
SEE RELATED VIDEO: Remnick talks about Obama in May
But judging from the swift, fierce reaction among bloggers, it appears the New Yorker's liberal-leaning politics may not shield it from criticism this time. "I believe the magazine's staff when they say the illustration is meant ironically, as a parody … But it's still fairly incendiary," Jake Tapper, who covers the campaign trail for ABC News, wrote on his blog. "I wonder what the reaction would be were it the Weekly Standard or the National Review putting such an illustration on their covers."