Creative Suite 6 and the Bottom Line

Offers new cloud-based licensing operation and greater app efficiencies.
Every 18 months or so, designers are introduced to the latest incarnation of Adobe's Creative Suite (CS), the bundle of nearly every major software application the company offers. Since its introduction in 2003, CS has solidified Adobe's leading position in the high-end creative and publishing arenas, just as Office has done for Microsoft in the business world.
Magazine publishers rely heavily on CS (particularly InDesign) to create their print editions. Adobe's Digital Publishing Suite (DPS) and similar InDesign-based services, allow these tools to be used—by the same workforce—to create interactive tablet "app" editions. In the past, however, InDesign's fixed-page environment, and the screen size and dual orientation nature of tablets, has meant that a digital edition's labor cost can be exorbitant.
This month's release of Creative Suite 6 (CS6) purports to address some of these issues. We examined the new tools, and spoke with Adobe officials, to find out if publishing executives can expect any relief at the bottom line.
Looking for the Silver Lining in the Cloud
Perhaps the most significant business news involving CS6 is the launch of Adobe Creative Cloud. The company has long promoted its Web-based services, from Adobe Studio DesignTeam (in late 2001) to today's Acrobat.com and CS Live services. Most of these involved workgroup collaboration, Web review/approval, and online file management. To these services, Creative Cloud adds the actual CS6 applications.
Unlike other cloud initiatives, the actual Adobe applications are desktop-resident, and are likely to remain so for the foreseeable future. (Computation-intensive programs like Photoshop and InDesign are simply too much for today's Internet.) Instead, Creative Cloud allows users to download CS6 applications to their desktops on a managed license basis. Shrink-wrapped versions will still be sold, but the flexible licensing model offers publishers an alternative capital investment approach.
Pricing for Creative Cloud, with a one-year contract commitment, begins at about $50/month for a single user. Later in the year, a "team offering" will be available for just under $70/month, although the number of team members included at this price point was not disclosed at press time. Larger workgroup pricing was also unclear. A one-month license, with no long-term commitment, is about $80 for a single user.
In the short term, the math may favor the publisher, who would be paying around $600 a year (probably less under a team offering) for each Creative Cloud seat. This is contrasted with new software costs of between $1,300 and $2,600 per person (Creative Suite is sold in differently-priced combinations, from Design Standard to the Master Collection), and upgrade costs of between $400 and $1,400 each time the new version is considered essential. Changes in tax depreciation should be estimated before making the switch. However, unless a publisher is planning to stay with one version of Creative Suite for more than 36 months—since that's the IRS depreciation timeline for Section 179 deductions—the Creative Cloud licensing model may be the best choice.
Adobe may still be the long term financial winner with the new licensing model. Even when the pace of innovation can be maintained, mature desktop software faces increased resistance to paid upgrades—which is always the inherent weakness of the shrink-wrap software approach. However, if Adobe can create an attractive level of services and incentives, then the annual, per-seat license approach can be sustainable for both parties.
Creative Cloud licensees have full access to nearly all the CS6 applications. The licenses are also more flexible; publishers who employ freelancers can transfer licenses on a project-by-project basis, or purchase one-month licenses to cover unforeseen situations.
Online file storage and collaboration are part of a Creative Cloud license. In addition to CS6, new applications like Muse (Web content creation for print designers) and Edge (HTML animation) will be available in the first half of the year. Later in 2012, Adobe will add Lightroom 4 and DPS Single Edition, which sells separately for $395. Creative Cloud licensees will also receive updates of CS6 applications with features that are not yet part of the shrink-wrap offering.
Publishing Flexibility
Another significant development for publishers is the new InDesign. Until now, creating interactive tablet editions with InDesign and DPS has meant significant labor cost increases—in some cases the equivalent of an entirely new publication—to accommodate different page sizes and horizontal/vertical screen orientations. The addition of rich media also creates additional labor costs, even when the publisher has ready access to audio and video assets.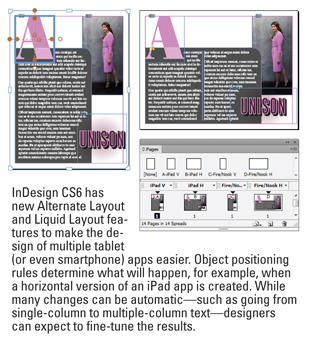 InDesign CS6 includes efficiency improvements for media asset management and placement, including new Content Collector tools and easier placement of interactive HTML content created in Adobe Edge. The most significant change, however, is its new approach to flexible page layout.
When designing a tablet app, designers may apply various
positioning rules for scaling objects or "pinning" them to one or more edges of the page. The results can be tested by stretching the page. After completing the design on one orientation, the designer can create any number of Alternate layouts—either a vertical version of the original or horizontal and vertical versions for devices with different screen sizes. Much of the re-positioning happens automatically, although designers will typically adjust the results manually.
Text frames can now change from single-column to multi-column—depending on width. Also, because text content can be linked, a change in one layout adds a warning to other layouts that the content is no longer the same. Users of paragraph styles will also benefit, since these can now be applied to each layout, and automatically mapped, creating proportionally appropriate type sizes for each device. Significant labor cost savings will also be possible for publishers who incorporate Alternate Layout rules into commonly used templates.
Adobe InCopy is not part of Creative Suite, nor does the InDesign-based text editor function differently than in the past. Users will be able to preview their changes in multiple, alternate views, but Adobe is looking to third-party workflow developers like vjoon and WoodWing to develop more comprehensive editorial management.
One disappointment was that publishers are not being encouraged to combine print and tablet layouts in a single file. Although it's technically possible to do so, Adobe is advising against it, due to unique print requirements like CMYK color correction, color separation, and the use of linked high-resolution images. The scope for CS6 is not—as some publishers hoped—an attempt to create a "universal media environment," but to reduce the complexity of managing multiple tablet formats in a single document.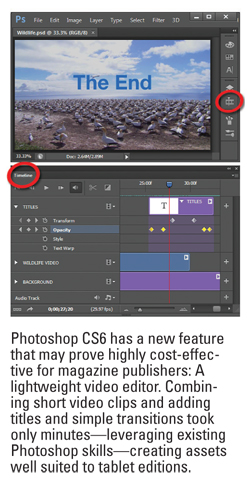 Other Highlights
Other CS6 applications had the usual mix of performance enhancements, interface refinements and "cool" features for designers. These have potential efficiency benefits, but may only incrementally affect the bottom line. The major exception in CS6 is Photoshop, has added a lightweight video editor. While this falls under the "cool new stuff" category, it also has a potential economic benefit for publishers.
Video editing in Photoshop is simple—especially for those who know the program. Its capabilities are limited, so it is no threat to Premiere. However, it also does not have Premiere's learning curve. Editing video in Photoshop appears to be ideal for the short clips that work best in tablet editions.
As photographers begin to utilize the video capture features of their equipment, simple video editing makes sense. The fact that Photoshop is included in Creative Cloud means that freelancers can more easily create
rich, interactive tablet content.
We also looked at Dreamweaver CS6, which has added an impressive set of HTML5 and CSS3 tools—plus a "Fluid Grid" approach to designing Web sites for multiple screens. There is now even a cost-effective way to generate mobile apps for iOS and Android devices. However, there is little if any crossover from the Dreamweaver side to the InDesign/DPS world of magazine apps.
InDesign CS6 does in fact easily embed inline HTML frames (iframe) such as Google Maps into pages, resulting in highly functional interactive content in the resulting app. However, publishers and agencies who create mobile interactivity in Dreamweaver will have to wait before their work can be easily used in an InDesign/DPS app.
Dollars and Sense
For publishers who already have a budget for creating interactive mobile apps, CS6 offers much-needed relief, giving designers a shorter path to creating horizontal and vertical layouts, as well as smaller screen versions. While designers can still spend additional time on each layout, that time is no longer the equivalent of a whole new digital publication. With the wise use of templates and styles, production efficiency can be greatly improved.
For publishers hoping to combine print and digital layouts in a single, more efficient file, CS6 is not the answer. For the time being, the two workflows are separate, as are the labor cost centers.
Other CS6 tools—notably Photoshop—will make it more economical for publishers to create interactive mobile editions.
The new Creative Cloud licensing model will also help many publishers manage labor and IT capital costs more effectively. As the magazine workforce becomes more complex and geographically separated, Adobe's cloud-based approach increasingly makes sense.
Meet the Author
---