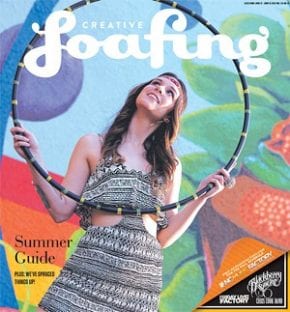 Charles Womack III, president of Womack Newspapers, Inc. (WNI) announced today that the North Carolina-based alt-weekly publication, Creative Loafing Charlotte—which was acquired by WNI in 2014 from SouthComm Inc.—has been sold to his son C. Alex Womack IV, president of Womack Digital LLC, for an undisclosed amount. Along with the sale, the publisher said that the Oct. 31 issue of the print edition would be its last. 
The announcement, which was originally posted on the alt-weekly's Twitter page, but has since been deleted, said that the decision to shutter print was due to the Alex Womack's vision of taking the publication digital-first. You can read the full statement from the publishers here. 
"It's time for the product to be innovated and taken to the next level," said Charles Womack in a statement. "Alex has a lot of experience in the digital world and is very passionate about innovation and technology." 
In response to the publishers' statement, former editor-in-chief of Creative Loafing Charlotte Ryan Pitkin announced on Twitter that all of the publication's staffers had also been let go, without severance, and another former staffer tweeted her outrage at the former owner and publisher. 
I've got some horrible news, our publisher Charles Womack waited until we went to print today then shut down the whole paper after 31 years just like that. Everyone out of work. No severance. No nothing. It's been real.

— Ryan Pitkin (@pitkin_ryan) October 31, 2018
Courtney Mihocik, most recently the associate editor of Creative Loafing, tells Folio: that the staff was given the deadline of noon on Wednesday to go to print, but within 10 minutes of doing so, their work emails had been closed. "We all thought this might be an emergency."
Shortly after, Mihocik says that Charles Womack came to their office and told them in a 20-minute meeting that all seven of the paper's staffers, which includes sales and editorial, were let go and "had about 5-10 minutes to get all of our stuff and get out."
While the cuts came out of the blue, Mihocik continues that there were indications that the paper was struggling, however both herself and her colleagues were under the impression that Charles Womack was looking to find a local or national buyer that could invest in the brand.
"We weren't the forerunners of digital content in Charlotte, but we had the potential to be, as long as we had the right investment," she says. "If we had the equipment and the staff to do digital content and to push that kind of stuff, then we would have flourished, but we knew that [Charles Womack] didn't want to put in that money, and he didn't want to put in that time, and he didn't want to put in that investment."
She speculates that the direction of the brand will follow a very different vision from the one that she is familiar with, "[Charles Womack] quote, un-quote, selling the brand to [Alex Womack], we don't know what he's going to do with it, but we know that it's not going to be good." 
Alex Womack, whose background includes working in business development at his family's company, Womack Media Group, since he was 18, previously spent three years as a business development consultant at mobile application development firm Kapok Digital before becoming president of Womack Digital in April 2016.
"I am very grateful for the opportunity to acquire Creative Loafing from my dad and excited about changing the business model into a digital-first, alternative news, multi-media company that exists to serve and create value for its employees, readers, and partners," he said in a statement.
WNI, which is based in Greensboro, N.C., also publishes Yes! Weekly, Jamestown News, and the Adams Farm Gazette.
"To me, and everyone else agrees, the saddest thing is that we didn't even get to say goodbye to our readers," says Mihocik. "We didn't get to bow out gracefully like a real company or anything like that and after 31 years, it's just going to fold like that without any warning from us."
At the time of publication, representatives from the Womack Digital LLC had not responded to a request for comment.