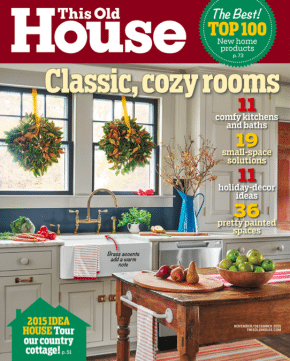 It goes without saying that the print side of the magazine business is changing. Newsstand sales are receding and publishers continue to invest further in digital media. Still, whether it's Caitlyn Jenner on the cover of Vanity Fair or a broken Gateway Arch looming over Ferguson, Missouri, it is clear that covers remain not just relevant, but vital channels through which magazines continue to connect and resonate with their audiences.
Folio: sought insights from two top cover designers to examine the core elements appearing in today's most recognizable cover concepts, and why they remain crucial to success.
Consider the Whole Package

Effective designers use cover concepts as ways of building brand identities, so considering one's overall brand aesthetic is essential. Maintaining a degree of continuity—through fonts, color schemes, or recurring themes—is an important element of sustaining an audience's long-term trust in the brand.
"Every element of the cover should be considered part of your brand, whether it's the picture, the headline writing, the typeface, the color, the logo," says Robert Newman, creative director at This Old House. "Don't forget that all of these things together are what creates a visual brand and visual identity for your cover."
By paying attention to details which, at first, may not seem important, Newman is able to maintain a continuous brand identity while still keeping things fresh and new. Every cover of This Old House uses the same fonts and a colored band behind the logo.
Be Clear in Your Message

Covers do not need to serve as abridged tables of contents. The less obscured the singular, main message is, the better.
"The better covers that are happening today, the message is extremely clear," says Matt Strelecki, creative director at Meredith Agrimedia. "There's no doubt about what they're talking about. They're not hiding that issue's intent."
The Mid-November 2015 issue of Meredith Agrimedia's Successful Farming takes this concept to an extreme, with one core message, "Stay Farming," and nothing to compete with it.
Choose the Right Message

"My biggest beef with how people design covers is that they put the wrong story on the cover," Newman says. "People are really beholden to this idea that the cover image must correspond to the longest or most important story in the magazine. You may have a very long, very important story in the magazine, but that doesn't mean it makes a good cover."
Be Provocative

It comes as no surprise that many of the most memorable magazine covers are designed to elicit emotional reactions, both good and bad.
"Ultimately, you have to play to people's fears and hopes in trying to get them to pick up your magazine," says Strelecki. "It could be a fear or a hope, but you're always looking to do something visually interesting."
Even if newsstand sales are no longer the priority they once were for many publishers, the main principles of cover design remain unchanged. In the end, designers are still trying to attract attention.
Know Your Audience

"We have a certain sense of what our readers like. One of the most popular things for our readers that we've found is they're interested in renovating kitchens, so we put kitchens on the cover," says Newman.
The November/December 2015 cover of This Old House was designed to make the reader feel as though they could step right into the scene and start cooking, Newman says. No people are visible anywhere in the scene; it's not someone else's kitchen, it's the reader's.
Be Willing to Fail

Learn from past successes and failures, but avoid falling into the trap of constantly repeating successful cover concepts to the point that readers lose interest.
"Complacency has no place in publishing, whether on the editorial or art side," Strelecki says. "Consumers are inundated with images and content and today's covers must rise above that noise by appealing, provoking and firmly connecting to their readers' interests."
The Mid-November issue of Successful Farming is a significant departure from the brand's typical cover design. The prominently-featured hashtag on an otherwise all-white cover is aimed at driving interest and visibility by leveraging engagement on social media.