Creating a Lead-Gen Engine

How two publishers utilize data to build out successful lead-gen operations.
One of the hottest topics in the industry right now is lead generation. Certainly not a new practice, publishers are ramping up their efforts to capture even more information about their readers to turn that data into advertiser gold.
Everyone's digging deeper and mining whatever information they have about their consumers—from basic demographics to the sweet spot of behavioral data—to build out a bigger picture of each reader and anticipate what products would attract them and where they'll go next. A successful lead generation operation can boost the bottom line, as well as placate advertisers who are asking for more and more leads. Online publisher FierceMarkets has been able to boost its monthly revenue by 10 percent to 20 percent since it began focusing on what it calls a performance-based lead-gen operation a year ago.
FierceMarkets has always been viewed as a lead-gen venue, says COO Maurice Bakley. Customers would approach the company looking for e-mail blasts, list rentals, Webinars and other things they thought would drive leads. Bakley calls that fixed-placement leads; instead of selling lead performance outright, that information was not bundled and packaged and sold. But the Washington, D.C.-based publisher ramped up its new performance-based campaign model in the first quarter of 2008.
Leading with Leads
Only now is FierceMarkets in the process of building the robust centralized database necessary to fully capture all of the relevant reader data and analyzing it for behavioral marketing purposes. Bakley says by delving into its new lead-gen business before actually building out the engine to drive it, the company was able to learn what was necessary to execute the program and help build scale. "I don't believe you have to have the master, über-database to start doing this," he says. "You just have to have good people who work together well to coordinate this. If you want scale, you need infrastructure."
FierceMarkets built the basic infrastructure of its new database in-house using the open-source software Drupal. Covering six different industries, the company has been working on cleaning up and centralizing its database so that it knows a lot more about each user from the demographics and subscription end. Later this year, FierceMarkets plans to marry that information with data based on what type of stories consumers are reading and which type of articles they click through for the newsletter to eventually tie that back into behavioral data.
Because FierceMarkets is doing everything in-house, the costs and manpower associated with its lead-gen operation encompass the entire enterprise. It takes bandwidth from audience development to fuel the database growth and co-registration, the attention of its marketing solutions or traffic team, IT resources to build the database and editorial support in cases where it is creating content to generate leads.
FierceMarkets is utilizing its full stable of online tools, including whitepaper syndication, e-mail newsletters, blasts, Webinars and co-registrations to generate leads. "Occasionally we will use in-person events as a way to fulfill a lead-generation campaign, though the economics are definitely more challenging to have an in-person event supported only through cost-per-lead revenue," Bakley says.
Like most new lead-gen operations, pricing per lead runs the gamut, based on the level of detail required by the advertiser. Typically, FierceMarkets sets $50 as the baseline for leads, which can grow to $150, if a CIO or VP-level person with a certain buying authority is provided to advertisers. And Bakley says that the number of advertisers requesting the company to generate these new leads seems to grow each month and is moving into verticals beyond just enterprise technology.
Bobit Uses Telephone, Link Tracking
Bobit Business Media has always provided sales leads through its reader service program—a long-time tradition of b-to-b publishers. It used whitepapers and other Web-registration-type leads about five years ago, then began conducting telephone interviews to generate leads. In 2007, it began to get into more enhanced reader-service leads, including phone and Web link tracking.
Its two most successful lead-gen programs have been its enhanced reader service, and Webinars. With its reader service lead program, Bobit saw a 500-plus percent increase from tracking toll-free calls and Web links, Oldenbrook says. And for one of its more successful Webinars, the publisher delivered more than 800 leads to the sponsor.
Bobit's enhanced reader-service program consists of leads collected from its print magazines, toll-free calls, online lead-gen forms and Web links. The leads, clicks and calls are all tracked through one system via its fulfillment and database marketing partner, Argi Focus, and provided in one aggregated report to the advertisers. The leads are delivered by e-mail or the advertiser can access them on the Web, Oldenbrook says.
Another way Bobit is capturing customer data is by providing a link at the end of most stories prompting the visitor to click if they want more information on the company or product discussed in the story. The lead is then sent to the salesperson for that company, who will forward it to the prospect or advertiser. Oldenbrook adds that it gives the salesperson a good reason to contact the prospect or advertiser.
All of Bobit's Webinars, whitepapers, Web polls and videos require extensive registration. "These leads are valuable because they provide demos with each lead and usually customized questions are provided by the sponsor of the event to establish their interest in their particular product or service," she says. Bobit may also append data to the leads or do phone interviewing to turn the information into a useable lead.
Bobit generates highly valued leads through extensive telephone interviewing that it does for advertisers. The publisher will identify customers from its databases that fit the advertisers' target market and then the customers are interviewed by phone to get the lead as close to "sales ready" as possible. The calls are conducted by a vendor well versed in the market. Not to be confused with telemarketing, this approach is very in-depth and requires the caller to be very familiar with the market and the objectives of the lead program, Oldenbrook says.
For its telephone-tracking program, Bobit has set up a toll-free phone number for each publication. The publisher assigns a unique code to each advertiser or ad in each issue of the print publication. When a reader calls, they hear a message from the publication and are prompted to key in the unique code. Then they are transferred directly to the advertiser's office, or whatever phone number the advertiser has provided. "The hook in getting people to use this service is that the magazine is providing a quick and easy way to get in touch with the advertiser," Oldenbrook says. "We see decent numbers with this system, but it seems to be decreasing a bit as people are going to the Web more now."
Leads cost $30 up to $500 or more. Oldenbrook says leads really have different values to different industries. "If a sponsor is selling a school bus or some other big-ticket item, then they will value a lead much higher than someone selling small business software," she says. "One of our publishers suggested in a recent meeting to ask your advertiser or prospect what value they put on a lead. That gives you a place to start the pricing."
SIDEBARS
Five Tips for Building Out a Successful Lead-Gen Engine
• Create guidelines, training and tools for sales staff so that they understand the value of the leads being provided and how you determine the value, says FierceMarkets COO Maurice Bakley. The publisher created a checklist that gives its sales staff some questions to ask if their customer steers the conversation to lead-gen or lead-guarantee programs.
• Set up a team, formal or informal, that meets regularly to focus on the ongoing success of the lead-gen campaigns. Bakley says you can't predict the results as well as you think you can and there will be campaigns that require ideas and input from across the organization.
• Have one person own each campaign. FierceMarkets uses its marketing solutions team to go well beyond trafficking ads to very actively monitoring each campaign, being creative with its inventory and securing help from others in the organization if a campaign is faltering.
• Have an executive (or multiple ones) in the company be the champion for lead generation. Bakley says that having oversight has driven home to the whole team the importance of learning how to sell and execute on these efforts. He adds that oversight has helped the company avoid bad deals, where it might have thrown lots of inventory after very little reward. You have to be ready to turn down a bad deal.
• Develop campaigns that require interested readers to take action. The best leads are the ones where a reader has invested an hour of time for a Webinar, watching a video, downloading a white paper—all of which give value to those leads, says Christine Oldenbrook, director of marketing and e-media at Bobit Business Media.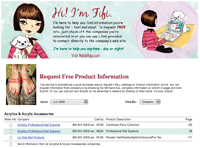 Get Creative to Generate Leads
Bobit Business Media has created an innovative enhanced reader-service program on the Web for one of its publications, Nails. It created a persona, "Fifi"­— a cute cartoon chick—to promote the program. When you click on Fifi on the homepage of the magazine, you are directed to a page where you can request free catalogs or product information from advertisers by submitting a form on the site, or by visiting advertisers' Web sites directly. The page lists all of the advertisers, Web links, a toll-free number (each advertiser is assigned a different extension), product descriptions and the page the products are found in the print magazine. And if you call the toll-free number, you get a recording of Fifi welcoming you, says Christine Oldenbrook, Bobit's director of marketing and e-media.
Meet the Author
---