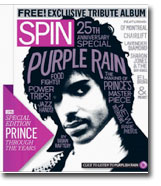 For a few years now, publishers have been utilizing digital editions as an alternative way of reaching their core print subscribers, whether it's for economical or environmental reasons. But more companies are using the format to target specific groups, attract new readers and advertisers, or as a way to offer exclusive content that can't be found anywhere else. This is where one-off (or custom) digital editions can come into play.
Last summer, Spin commemorated the 25th anniversary of pop star Prince's debut album release with a print issue chock full of articles and images about the singer, plus an album featuring bands doing covers of Prince's music. It wasn't until the end of pulling the issue together that the staff thought of bringing a digital element into the mix.
"This was a really big package for us," Nick Pandolfi, digital edition manager, Spin, told DEI. "Because we put all of this effort into the feature and the album, we wanted to give it as much mileage as we possibly could. We wanted to add another piece to the puzzle."
That puzzle piece was found in Spin's archives. The title had numerous articles about Prince dating back to the early 1980's. "We figured that since we had all of these archived articles, why not put them into a digital format and send it out to those superfans?" Pandolfi said. "Prince's fans are ravenous. They're always looking as much info about him as they can get their hands on."
The staff agreed that the most appropriate format to put these articles in was digital, so they chopped up the content they had and pieced it together to make one issue that would be sold on Zinio's newsstand for $4.99. Spin did some in-book promotions for the digital edition as well as marketing on Spin.com. Promotions were also sent to specific Prince fan groups.
Pandolfi declined to provide specific information on how the issue performed, but said that because of the nature of the project—it featured specific content and was marketed to a highly target audience—the open rates were "really good."
The issue didn't feature any advertising, according to Pandolfi, since it was pieced together at the last minute, but he said that the Spin does have plans to further explore what digital custom publishing has to offer. "Going forward, I think we'll continue to do one-off issues that will be tied to specific events," Pandolfi said. "Our 25th anniversary is coming up, so an opportunity to do a one-off might be there. And I'd like to have the sales team go out and get some advertisers."
He added that whether you're trying to sell advertising in a one-off digital edition or a monthly one, there are still challenges. "But once advertisers become savvy enough and understand the model, they'll start measuring digital editions the way they measure online advertising instead of comparing it to print advertising."
Yoga Journal's Custom "Earth Day" Issue

In honor of Earth Day, Active Interest Media's Yoga Journal has published a one-off digital edition for the past two years, both as a way to show its support of the environment and as a marketing tool to attract new readers and advertisers.
"For Earth Day, we wanted to expand the opportunity of receiving a digital edition of Yoga Journal to those that are not familiar with it, plus express our support of cutting down fewer trees to make paper," Bill Walker, VP/ group publisher, AIM's Healthy Living Group told DEI.
The issue features video profiles of well-known yoga instructors, music downloads and a full range of tracking capabilities. And for every 15 clicks on an ad, Yoga Journal will plant one tree through a partnership with TreePals. The model is also be utililized for subscribers of Vegetarian Times.
One million copies of the digital edition, which is a duplicate of April's print issue, will be sent to "likeminded people" this year, according to Walker, including approximately 600,000 of YJ's e-newsletter subscribers and 200,000 people identified by Zinio as "green" and having an interest in digital magazines.
The digital edition is supported by advertisers, Walker said, and includes a mixture of those already buying ads in the print and digital editions of YJ and new advertisers attracted by the Earth Day theme. In fact, the company saw a 10-15 percent boost in pages for last year's issue. "This issue is a great tool to get advertisers on board because we're adding another 1 million to our existing rate base," Walker said. "They view it as a better value. We've also been able to sell print/digital ad combos and sponsorships with this issue."
A sub order form is included in the digital edition, which makes it easy for new readers to subscribe, Walker added, and this year, YJ will be able to take advantage of Zinio's presence on the iPhone. "With us being available on more formats, I think the issue this year will do even better."