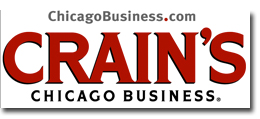 Crain's Chicago Business will transition to a metered subscription plan online next month.
As of June 14, visitors to ChicagoBusiness.com will have to register to access more than three online articles per month. Beyond 12, users need to pay $59 for an annual digital subscription, or $99 for a print and digital combination.
"We've made the determination that our staff-written daily news and more in-depth content in our weekly print edition have equal value," Crain's publisher David Snyder tells FOLIO:. "Readers will need, at some point, to pay for that quality journalism."
Current digital subscribers will be unaffected. Print subscribers have a limited-time option to upgrade to a print and digital combo for free.
Despite the new meter, Crain's says this shift makes more of its content free to more people. Crain's weekly print issue content has been set behind a pay wall for more than a decade; now, all site visitors can access up to 12 articles of any kind—including current print articles and Crain's 15-year archive—for free.
While limiting free access to content online is sure to meet with some resistance, Snyder says, "It's a managed risk that I'm confident will have a significant payoff."
Crain's has been considering an expansion of its paid content model for more than a year, he adds, but really began in earnest—through reader research and Web metrics analysis—in the last 6 to 9 months.
"Clearly, we are encouraged by some other national media outlets in their efforts," Snyder says. "We know it will be a learning process. There will certainly be tweaks in terms of where to set the meter for registration and pay, and what our messaging to readers should be. Our exact model today may not be the same as six, nine or 12 months from now. Everyone who goes into the meter business knows there are different levers to pull."