CQ-Roll Call Group Reorganizes, 44 Editorial Positions Eliminated

Changes come nearly two months after acquisition, merger.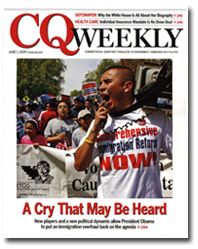 The Economist Group's Washington, D.C.-based CQ-Roll Call Group today announced a reorganization of its editorial operations, resulting in the elimination of 44 positions across its newsrooms. The changes come after a nearly two-month-long review of the operations following the Economist Group's acquisition of Congressional Quarterly and creation of the CQ-Roll Call Group.
"We've been very upfront with our team about what's been happening," CQ-Roll Call Group executive vice president and managing director Laurie Battaglia told FOLIO:. "We wanted to move as quickly as possible so as to not leave our team wondering. All these changes are complete and are merger-related."
According to a second memo from editorial director Mike Mills (obtained by Politico's Michael Calderone), the group's new editorial structure "will streamline our editorial processes and help us reduce costs." The 44 positions that were eliminated "either because their jobs directly overlapped with others in our merged companies, were redundant in our new streamlined operations or were determined not to be core to our mission."
CQ-Roll Call Group's editorial operation will be made up of a total of 184 staffers divided into eight new groups: CQ News, managing CQ Today, CQ Weekly and CQ.com; CQ Legislative Tracking, headed by Peter King; Roll Call; Consumer Publishing, which will manage Congress.org and CQPolitics.com; Specialty Publications, including Budget Tracker, HealthBeat and CQ Homeland Security; Copy and Production Desk, a merger of CQ's Continuous News Desk, copy desks and Web productions desks; Art and Graphics, led by Jamie Baylis; and New Product Development.
(Click here to see Mills' entire memo which details all the changes.)
The Economist Group acquired Congressional Quarterly from Florida's Times Publishing Company in July. Financial terms of the deal were not disclosed. The magazine had been on the block since January.
Following the July merger with Roll Call, three CQ editors were laid off, along with Roll Call's publisher and several staffers on the business side.
Meet the Author
---