CQ Roll Call To Consolidate Brands Into One Print Daily

Announcement comes on the heels layoffs and newsroom consolidation.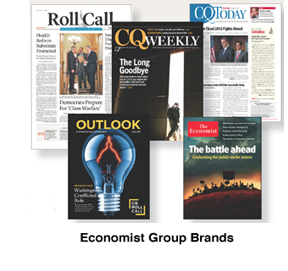 The Economist Group's CQ Roll Call business, which produces a variety of publications that includes CQ Weekly, CQ Today and Roll Call, is undergoing a series of changes, most notably with the consolidation of its brand into one daily print publication and laying off up to 30 employees.
"When the companies merged in 2009, we brought together two long standing brands—CQ and Roll Call," a spokesperson for The Economist Group's CQ Roll Call business tells AD. "One (is) known for serious policy content and the other for politics and commentary. CQ Roll Call is uniquely positioned to cover both and as we realign our resources, we are consolidating the newsroom and creating efficiencies in our delivery of news and information, by moving towards publishing one print daily."
The spokesperson from CQ Roll Call would not confirm the number of individuals let go, or the areas of the company that saw cuts. According to news reports from FishBowl D.C., 30 employees in the last two weeks have been laid off. It is unclear whether more staffing changes will be had for the brand going forward in 2012 amid its consolidation, and how the present cuts might affect business in its present state.
"We are continuing with plans to combine our newsrooms as we move to one print publication daily," says the spokesperson. "Our readers will now be able to consume politics and policy news through one vehicle—in print and online. We are moving forward in the digital space—investing in CQ.com and continuing our legislative information and bill track services. Recognizing the change in consumption and engagement in the marketplace, CQ Roll Call will be launching a new advocacy and engagement platform, which is poised to be the strongest product on the market."
Ad pages for CQ Weekly are down by more than 50 percent for the first half of 2012 when compared to the same period last year, according to ad page box scores from Folio:'s sister publication, minonline.
According to The Economist Group's report for fiscal year ending March 31, regionally, the Americas (which includes The Economist) and CQ Roll Call accounted for $258 million, or about 45 percent, of overall revenues.
"We recognize the changing needs of our current and future users, readers, and clients," says the spokesperson. "Yesterday, we took strategic steps to realign our resources to concentrate our efforts closest to the customer—creating innovative, dynamic, digital-first products that serve our communities."
Meet the Author
---