Coveting Thy Neighbor's Blogger

If all else fails, go with LOLCats!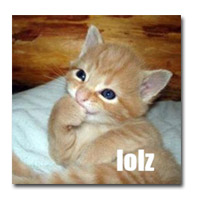 In my capacity as Discover magazine CEO, I had lunch last week with a leading environmental scientist and blogger. After a brief but stimulating chat about the climate crisis, I steered the conversation around to my more parochial concern: Can I dramatically increase my Web traffic by adding more blogs?
He was skeptical to say the least. Incumbents in this market have significant first mover advantages. My friend launched his environment blog in 2004, a year before the Huffington Post but a good five years after Boing Boing. Since then, if you believe Technorati, literally tens of millions of new blogs have been created. At the same time, blog users' bookmarks and RSS readers have been filling up (not to mention other blogs' blogrolls), leaving less real estate for new entrants.
A quick look back to early 2007, though, shows that a magazine site can launch a new blog using a time-honored tactic-poaching from its competitors. In January, Atlantic Monthly signed Andrew Sullivan's blog away from Time, and whatever they paid him was probably a bargain compared to the ad inventory he generates.
There's a lesson here for magazines looking to expand their
blog platforms. Instead of coaxing your overworked editors to blog more, look around your competitive space for established but undermonetized blog sites who might see the benefit of hooking
up with your brand.
If that doesn't work, you can always go with the LOLCats.
Meet the Author
---