Covert Charges

Recording interviews without permission in advance is risky business.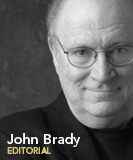 A few seasons back, while doing research for a magazine story on the literary establishment in Boston, I hooked up a recorder to my phone line and called George V. Higgins. "Do you have a few minutes to talk?" I asked the late, great novelist. "And is it all right if I record this conversation?"
Higgins laughed. We knew each other from numerous lunch encounters over the years. "Of course," he said comfortably.
"I don't want to miss anything," I explained. "I want to listen to our conversation again."
"And you don't want to break the law," he said with another laugh.
The law? "Secret recording is a felony in Massachusetts, you know," Higgins said. "I wrote the law."
I turned on my recorder as Higgins explained that before he became a best-selling author of The Friends of Eddie Coyle and other books on the criminal life, he was a prosecutor in the attorney general's office. There, as part of an Electronics Surveillance Act (which enabled law officers to do wiretaps with search warrants in pursuit of crooks), Higgins wrote the law prohibiting secret recordings. "And many an angry spouse has discovered to her or his dismay that they cannot use the recordings they made on their own phones," he chortled.
What's An Interviewer To Do?
Where does this leave reporters and writers? In a dilemma. I think we all know someone who records sources without asking permission in order to listen to a conversation again (and again) and quote accurately, or check back if an answer is unclear. Lurking beneath this noble goal is another motive: If this guy says "I was misquoted!" or "I never said that!"—Gotcha!
But if secret recordings are used to rebut a source who says, "I was quoted out of context," or any of the other standard rebuttals, the courts are likely to find the recordings inadmissible and say gotcha to the writer. First of all, secret recordings are illegal in interstate commerce—that is, calls from one state to another. In some states, only one person has to know that a recording is being made (a truly dumb law, when you think on it). In other states, secret recording is a misdemeanor; in others, both parties must be aware that a recording is being made, or it is a felony.
Apart from the law, however, there is another consideration: Is secret recording ethical? Of course not. The best approach is to play straight with the source and get permission in advance to record the interview. If you think a subject may balk at the idea, here are four ways to make your request a win/win situation:
1. Let's get this over with. Point out the key advantage of the tool—it saves time. "I'd like to record our conversation so that I don't have to slow you down for note-taking," you can say. "This whole thing will be over in twenty minutes."
2. Our aim is accuracy. "I'm using a recorder so that I can be 110 percent accurate."
3. Just us. Subjects often wonder what happens to recordings after the interview is over. Will they end up on the Internet? "I'm the only one who will ever hear this," you can say to neutralize this anxiety.
4. Copy available on request. If the subject is still wary, offer to provide a dupe of the recording. "I'll e-mail you a copy for your own files."
If the answer is yes, record the acknowledgment before you start your interview. If the answer is still no, get ready to write. Have note-taking materials on hand. For a phone interview, you can speed the process by taking notes on your keyboard.
Don't delete interview files until you are certain you won't need them for future reference. In Massachusetts, for instance, the statute of limitations for filing libel charges against a publication is three years after publication of the offending story. Thus, if a source says "I was misquoted" after the story has appeared, you may have to dig out that old recording and listen to it again. But at least you'll be listening to a recording that wasn't done surreptitiously—and the judge is bound to view that favorably.
John Brady is visiting professional at the Scripps School of
Journalism, Ohio University. He is a partner at Brady & Paul
Communications, a publishing consultancy, and conducts editorial
workshops for professionals. For information on his Interviewer's
Handbook: A Guerrilla Guide for Reporters and Writers, his Web site is johnbrady.info, or you can e-mail him at Bradybrady@aol.com.
Meet the Author
---