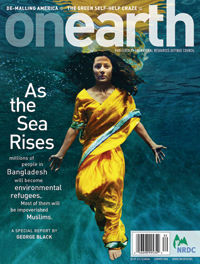 Picture this: "A photographer in scuba gear photographing a woman in a sari who is repeatedly immersing herself in water while trying to strike the right post and emote with the appropriate facial expressions." That is how Douglas Barasch, OnEarth editor-in-chief, describes the process of creating the cover image for the magazine's summer issue.
On top of that, the OnEarth team was trying to make the cover "provocative, but not exploitative." They wanted a "hauntingly beautiful image that enticed the reader to pick up the magazine and look at it," says art director Gail Ghezzi, conveying a "sense of power and consequence" while also communicating urgency and disaster. They wanted to "invite readers in to difficult terrain without softening the message," says Barasch.
Sounds like a lot to ask from a cover! But for Jamie Stark of Stark Designs, they get it done: "I think it's a solid cover," he writes. "The color contrast in the photo is great. It's a striking image that quickly communicates its horrifying point."
Anthony Ficke of AB Communications disagrees: "… the cover as a whole lacks interest," he writes. "Overall, it gets the message across, but doesn't jump out at the reader."
Now it's time to hear from you. Take the Face Up survey and get the chance to win an iPod Shuffle!