Cover Price Experiments

Are cover prices the only factor in determining newsstand sales?
Some of us may remember back in 2007 when celebrity lifestyle magazine OK! made the decision to increase its cover price. Like a copycat younger sister, Bauer Publishing followed suit.
But after more than two years of solid newsstand performance, Bauer's Life & Style and In Touch took a tumble, dropping 30 percent and 27.7 percent in overall paid circulation and 30.2 percent and 28.7 percent in single copy sales, respectively, in the first half of 2008, according to ABC's Fas-Fax survey. A Bauer spokesperson attributed this to "celebrity weeklies increasing their prices across the board, resulting in a 10 percent decline in newsstand sales for the first half of this year."
OK!, however, saw single copy sales increase 19.4 percent and verified circulation up 11.8 percent during the first half of 2008, after upping its cover price to $2.99 in 2007. Being "in sync with what readers are looking for" is key to the magazine's success, says OK! general manager Kent Brownridge. "It's all a perceived value question." When OK!'s price increased again to $3.49 in mid-2008, the magazine experienced no decline in newsstand sales.
Are increased cover prices really the culprit in Bauer's newsstand slide? Brownridge offers that Bauer's cover prices were "amazingly, dramatically low," and that in his opinion, they are now at the proper cover price of $2.99; high former sales were a result of "ridiculously low [cover] price[s]."
While this may be old news, "sales on newsstands have been dropping for reasons other than just cover price," says Active Interest Media COO and group publisher Andrew Clurman. Here, publishers discuss what factors, other than cover prices, allow titles to stay ahead.
'Newsstand Darwinism'
TAM Communications owner Buzz Kanter cites "Newsstand Darwinism" as the main component of sales: only the strong and swift to react to the market will survive. In his own overcrowded field of automotive and motorcycle magazines, Kanter expects as much as one third of the titles to fold in the coming year. Wholesalers and retailers, he thinks, will promote category leaders, while weeding out those titles that can't keep up.
In 2008, Active Interest Media raised cover prices on Backpacker and Blackbelt from $3.99 to $4.99 and $4.99 to $5.99, respectively. "Cover price increases contribute to the fall, but value also plays a great part in sales. As the economy becomes tighter, people are more selective in what they're buying," says Clurman. He determines cover price by looking at the category, competitive titles and where the market is. Clurman also considers which way sales are trending. "If you think you're below the competition, increase the cover price," he says.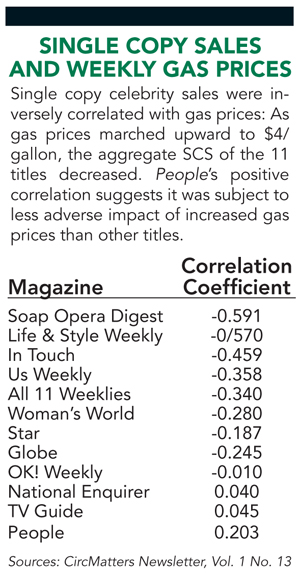 Kanter's Harley-Davidson focused magazine, American Iron, has experimented with bumping cover prices, resulting in no sales fall off, as well as lowering it to offer better value to readers, and decent profits to wholesalers and retailer partners. American Iron has remained at its cover price of $5.99 since early 2008. The cover price for RoadBike, Kanter's smaller circulation magazine focusing on import bikes, is "much less aggressive," only raising its cover price a total of $2—from $2.99 to $4.99—over the past decade.
In Clurman's experience, lower prices have never lifted sales. "We haven't gone down to $.99, but we're selling niche publications to a self-selecting audience. They're not a market heavily influenced by a $.99 or $1 difference."
 
2009 Decision
Kanter jokes that it doesn't take six PhDs and a Ouija board to make a decision on newsstand price. "We've found that American Iron's single copy sales are relatively flat, but virtually all of the competing titles are significantly down," he says. In 2009, Kanter has decided to let cover prices ride. Clurman cites Backpacker and Blackbelt's sales as flat in 2008, and has also made the decision not to increase cover prices in 2009. Brownridge's intention for OK!? "We won't raise it in near future. It's right where it should be."
Meet the Author
---