Cover Critique: Radar's Redesign

Designers weigh in.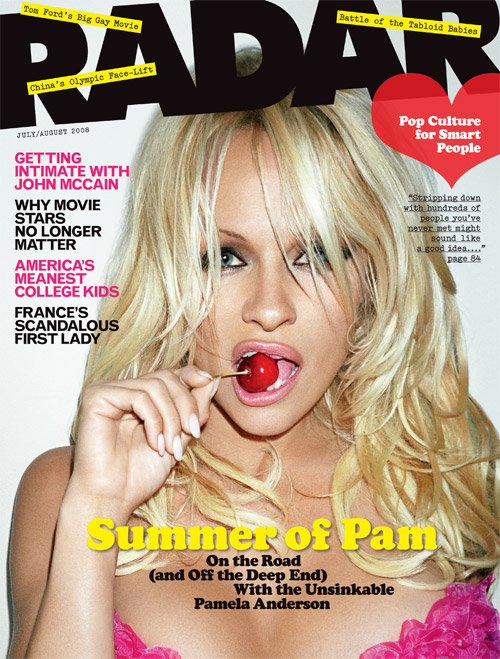 BACKGROUND: Radar-the
magazine that refuses to die-is set to unveil
an extensive redesign with its July/August issue, one that features Pamela
Anderson, shot by celebrity photographer and noted American Apparel shooter Terry
Richardson, on its cover. The magazine, now in its third
iteration, spent four months working with Pentagram's Luke Hayman, one of the
industry's renowned designers, on the new look.
NAME: Marco Turelli

TITLE: Art Director, Wine Enthusiast
CRITIQUE: This cover hits all the
checklist boxes for a successful cover, clean white surface, provocative image
making eye contact and compelling coverlines. I like the treatment of the over
lines (skylines) a great deal. Problem is, I don't really care about Pamela
Anderson as a person and she's so busted as a celebrity, she was done as a
cover model nearly 10 years ago. Pam is definitely not the type of celebrity
that a "smart person" cares to read about. Cindy McCain sucking on a cherry or
a Bud might have piqued my interest.
NAME: Jamie Stark
TITLE: Principal, Stark Designs, LLC
CRITIQUE: I like the
magazine logo. The flat, retro, cut and paste look is a nice change from the
slick, over-designed stuff that is so common. The way it crops off the page
like a badly placed photocopy is a nice addition. This works well with the in
your face, candid look of the photo. The photo is somewhat ironic in that Pamela
Anderson is such an icon and the photographer's style is that of the Larry
Clark Polaroid, dorm room snapshot school. This is not meant to disparage his
work-the stuff on American Apparel is incredibly fresh and sexy-but his style
is the antithesis of the usual fashion/celebrity mag cover where you might find
a striking, soft, heavily-Photoshopped Pam Anderson. While it may not be the
most tasteful cover I've seen, it works well for the content and stays true to
its style throughout.
NAME: Jandos Rothstein
TITLE: Design Director, Governing
CRITIQUE: Until
recently, Radar's design spoke of financial poverty more than anything else.
But I thought with the issue immediately before this, they had found a good
place visually-a look that balanced the magazine's early frenetic and highly
interactive pages with a more contemporary aesthetic. So, I'm surprised that
they are once again throwing away the play book. It's hard to judge a look by
the cover (sorry), or at least an isolated cover, but the Spy-ish
Photoshop shenanigans the magazine is known for seems to me a better match
for most of the snotty take-downs the magazine runs, rather than a straight
celebrity shot (even if it's a particularly unflattering one). On the plus
side, the Cooper Black rocks.
NAME: Bob Sadler
TITLE: Creative Director, Sadler Traveling Circus
CRITIQUE: This cover sample has an excellent, eye-catching photo and a comfortable headline display that's easy to read and doesn't spread all over the page (which is a blessing).  But what if the image used on a future cover isn't as good as this one, will the cover hold up just as well (by its design alone) and still stand out from the crowd?  I have my doubts.  Do they plan to use those yellow sticker headlines over the logo every issue?  It might work, but how well, I don't know, and would any reader care about them one way or another? The logo design could be a lot more interesting.  It's funny, but to my knowledge, in all its various lives, Radar's designers never used the image that first comes to mind when one hears the word "radar," and incorporating it somehow within its logotype. I would recommend they look at how Paper magazine has played with its logo (by filling it with patterns and other images). Just because Paper has done so, doesn't, to my mind, mean Radar could not.  They would just have to find a way to do it that meets their own special outlook and editorial style. The in-flight magazine Go! has used this trick wonderfully well, and should also be given a look see. This change in its logotype could work right into their future schedule, rather than having to be announced as something new.  The cover would simply be a bit different and possibly more exciting because of it. The German magazine Twen used a heart shape just like the one shown here to great advantage in their magazine, and throughout the run of its publication life.  But I am not sure I would want to see it on every cover.  And yet, maybe it could work. It will just depend on how they choose to use it. It looks very good on this sample. I especially like how it points to the copy below it.
What do you think? Leave your critique in the comments section below, or drop me a line [dstableford AT red7media DOT com].
Meet the Author
---