Cover Critique: Glamour Makes 'Em Feel Good

Covers that champion the average are part of the magazine's success.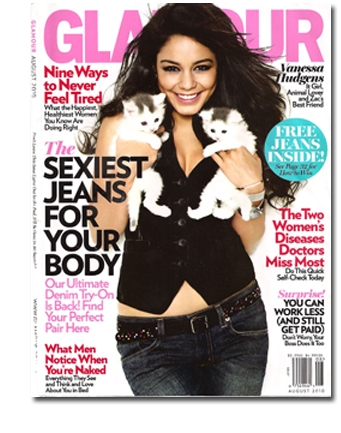 There are no stars in Glamour, this year's winner of ASME's Magazine of the Year category. There are mostly average-looking women in their early 20s looking thrilled to be there.
Glamour positions itself as the Champion of the Average. It's accessible, empowering, useful and happy. It's the anti-chic, anti-supermodel, anti-bitch bible of the majority, even though sometimes the magazine confuses its readers with the average zombie.
"Glamour never ceases to make me feel like a million bucks", writes reader Alison Wilhelm of Southbridge, Massachusetts, "thank you for recognizing that women of all shapes and sizes and colors are unique and beautiful" (page 30).
The August 2010 cover does its best not to be elitist or controversial starting with the model, semi-celebrity and "Zac's Best Friend", Vanessa Hudgens ("I love animals, love, love, love, love animals", page 143). She's so average that she might go unnoticed if not for the two docile ASPCA kittens she's holding.
The six cover stories are all service or advice including two health-related ones. The one possible think-piece candidate, Glamour columnist Katie Couric interviewing Alexandra Cousteau, granddaughter of the legendary ocean explorer, didn't make the cut.
Every cover line is accompanied by a deck. Five out of the six decks have a verb in them. Two out of the three most effective buzzwords have made it to the cover. "Sexiest" and "free" are very evident. The only one missing is "new". The main cover story, "The Sexiest Jeans for Your Body", is backed by a medallion that promises free jeans inside. The story includes models, pedestrians, readers and other subjects wearing all kinds of jeans. They're mostly under $100, although a single pair of Armanis at $295 has sneaked in. Jeans are the uniform of the masses. You couldn't pick anything less controversial. Glamour points out inside that this is The Jeans Issue. It's no doubt a guaranteed money-maker year in and year out.
The cover design combines day-glo pink with red and black cover lines against the all-purpose white background. You can see the pink logo from ten feet away on the newsstands. Glamour's 70 words of cover lines show great skill in communicating with its readers and with its even larger potential audience.
Glamour's trick is to address the reader directly, "Find your perfect pair", "Do the quick self-check today", "Don't worry, your boss does it too". The results are two-fold: they help create a sense of community and they make everyone in the audience feel counted—no matter how average they are.
Meet the Author
---