Content marketing is like the courtship on which you embark on your way to marriage. If you go out on a great first date—wine, fine dining—there's an expectation of more. But what if the phone never rings after that? Brands are guilty of the same thing. They create some outstanding content, win a few awards, and then you never hear from them again. What are you supposed to think? He's "just not that into you?"
The key to content marketing that leads you down the aisle is consistency.
Start with the core platforms: Facebook, YouTube, Instagram, Vine, perhaps one of the emerging platforms like Periscope, and then hopefully your content begins to self-propagate via user-generated "copycatting."
At The Economist we tend to drip feed our information. We know people most actively consume content very early in the morning during their daily commute and again, in the early evening, up to 8:00 pm or 9:00 pm.
We turned to content marketing last summer after realizing that our efforts at the funnel bottom were getting close to full optimization. In other words, our targeting and conversion was highly efficient, and close to saturation: we were close to hitting the same people, many times, and we had to expand the prospect pool.
We knew the younger demographic we wanted to attract were getting their news online. Picking up The Economist from the newsstand wasn't, and isn't, intuitive behaviour for them, or an organic destination. Instead of encouraging them to do so, we decided to place the content—which really is relevant to them—where they consume the news. After all, this generation is liberal, they've an interest in their future employment, immigration, technology and global affairs, and that's exactly the kind of subject matter you find in The Economist. Our marketing reinforced that we were contextually relevant, and not just for this younger demographic.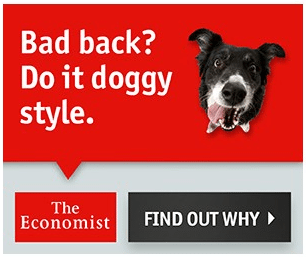 For example, last year we ran some editorial on the best sex positions if your wife was suffering from a bad back. So, we highlighted this editorial via an ad saying, "Bad back? Do it doggy style," when we tracked people discussing back problems. When the individual clicked the banner ad it drove traffic to The Economist editorial and then cookie'd them, enabling us to have an ongoing dialogue with them and hopefully drive them to conversion. We are blessed with fantastic content so what happens is, individuals share the content and expand our online presence, too.
The tonality of content marketing is important—the personality, vocabulary and attitude—but so is context. Our click-through rate is higher in Asia than in any other region, and that is because we have a good handle on the cultural context of our content. One thing I learned from my time working in Asia is that the region must not be viewed as homogeneous. Each market has local nuances, culture and sensitivities that multi-national brands ignore at their peril. For example, we ran a very successful ad that talked about why there are so many people in South Korea called Kim.
What we absolutely avoid is click bait; the kind of groan-inducing intros like, "What he saw next reduced him to tears," or, "You'll never guess what he finds in his basement." There's a slightly higher uptake if there is a graphic, but here's an interesting thing: Some of our ads receive a high CTR, but low conversions, and some are the other way round. An ad that featured a pair of slippers and said, "Highly skilled? Don't even think about retiring," had a low CTR but a high conversion rate.
We hope to keep talking to those who don't convert and, to do that, we offer a couple of subsequent "hot dates." They can see a few articles a week for free. After that, they hit a paywall and they can either subscribe or register, which allows them free access to a number of additional articles per week after that.
We've been testing YouTube's Google Lightbox, a contextually bought video platform. The ads on YouTube are a frame within a frame and we've been contextualising these banner ads with a call to action, the same way we do on social media. To our surprise, they sparked a halo effect. As well as a spike in subscribers, we also noticed that search activity relating to The Economist increased, particularly in Asia. So, the lesson here is, subscriptions may not be acquired traditionally but via a more complex courtship. We have also decided to increase our budget spend in video and invest more heavily in a new offer called Economist Films—our self-generated video news content.
Audio content is another platform for content marketing. Our Economist Radio offerings are our hidden gems; the entire publication recorded by professional actors. My brother is a professor of English in a Japanese University and recommends his students listen to the recordings to help them get a grasp of business English. We have a Global Business Review app which is published in both English and Mandarin so Chinese readers can read it in English. If there are, for example, idioms they don't understand, they simply highlight the phrase and it's translated to Mandarin. Angela Merkel, no less, admitted that she listens to the podcast while she's at the gym. And if content marketing has achieved that then we must be doing something right.