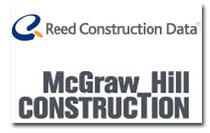 A New York U.S. District Court judge has ruled in favor of McGraw-Hill Construction Dodge to dismiss three of the counts brought against it last year by competitor Reed Construction Data alleging corporate espionage, among other things.
Specifically, the ruling dismisses the counts alleging violation of the New York General Business Law consumer fraud statute, violation of the Racketeer Influenced and Corrupt Organizations Act (RICO) and conspiracy to violate RICO. The ruling was filed on September 14. The litigation concerning the remaining eight counts is ongoing.
"We are very pleased with the judge's ruling dismissing the RICO claims and state law consumer fraud claim and remain confident that we will prevail on the merits with respect to the remaining counts in the litigation," McGraw-Hill Construction says in a statement e-mailed to FOLIO:.
"It should be noted that the judge's decision to dismiss these claims was based on technicalities in the law, and is in no way a reflection of the substantive allegations in RCD's complaint or the merits of RCD's remaining claims," Reed says in a separate statement. "RCD will continue to aggressively pursue its claims against McGraw-Hill to seek redress for the injuries that it has suffered as a result of McGraw-Hill's actions."
McGraw-Hill's original motion for dismissal, which was filed in November, requested the court throw out a total of five counts named in Reed's complaint. The complaints that were not dismissed claim "misappropriation of confidential information," and "tortious interference with prospective economic advantage."
McGraw-Hill's motion also did not request the dismissal of other counts alleging fraud, misappropriation of trade secrets, unfair competition, monopolization, and others.
Reed filed its original complaint last October. In December, the company expanded the complaint, alleging that Dodge also used access to RCD's database to misappropriate its construction information by downloading hundreds of project-related documents.