Country Sampler Tweaks Color Correction, Saves Big

A simple Photoshop plug-in drops flawed copies by two-thirds.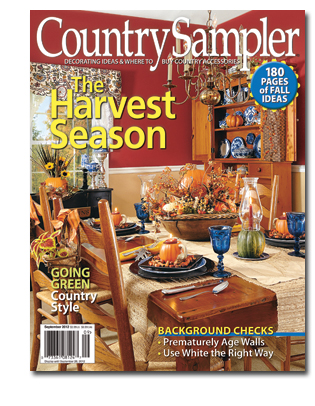 For image-heavy publications, the color-correction stage is a critical pre-press process and, if adjusted for maximum precision, can be an area where publishers can save big on printing costs.
Karen Elston Davis, prepress manager for Country Sampler Group, began a quest last year to find a method that could dramatically decrease color correction time while improving quality and color balance. The magazine manages 800-1,000 images in an eight-week turnaround. Images are an important component to the brand's identity, which caters to readers seeking country-style home tours, design tips and information about antiques, collectables and folk art. Efficiently managing hundreds of images is essential for the group, who wants to focus on new work, like adding various treatments to images, or enhancing images for digital editions.
Elston Davis settled on a Photoshop plug-in called ICEit! by FineEye Color Solutions, which captures significantly more original image color when converting from RGB to CMYK. The plug-in replaces default color separation settings and allows a user to complete an accurate color correction with one simple click.

Sample the Numbers
Elston Davis states that the plug-in has saved "a ton of time doing color revision" and adds that the design team doesn't "have to put out a second proof." According to Elston Davis, color correction for Country Sampler has decreased from 60-80 percent down to 10-15 percent.
It almost goes without saying that printing fewer error-filled copies can save time, paper and ink. What is less obvious is that it has the potential to cut costs and increase readership. Country Sampler typically runs off about 550,000 copies, and until recently, anywhere from 80,000-130,000 of those copies had color problems. Since implementing the plug-in, that number has been significantly reduced to 30,000-50,000 flawed copies—a reduction of nearly two-thirds. The magazine has gained tens of thousands of quality usable books that can be provided to subscribers and newsstand customers. More copies mean potentially more readers, something every publisher should welcome.
"It's awesome," says Elston Davis, who adds that, "Someone who understands color will notice the advanced differences when they test it side-by-side." She also suggests that the plug-in is extremely user-friendly, yet still advanced. "I have been searching for a program that allows you this kind of control, and this is it."
Meet the Author
---