Country Sampler Goes on the Block

National brand no longer fits with Emmis' regional portfolio.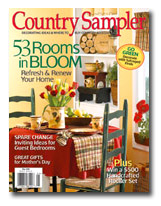 Emmis Communications—publisher of eight magazines including Texas Monthly—has quietly put Country Sampler, its lone non-regional title, on the block, FOLIO: has learned.
According to an industry observer with knowledge of magazine M&A, Emmis has determined that the Country Sampler Group—which includes three consumer titles and one trade magazine, all within the crafting and decorating industry—no longer fits with Emmis' city and regional titles.
Emmis publishing president Gary Thoe did not immediately return a call seeking comment.
Country Sampler launched in 1984 in the basement of Mark Nickel, then a managing editor at a Chicago-based publishing company, as an alternative for mom-and-pop craft shops that couldn't afford to advertise in the dominant magazines at that time—Country Living and Country Home.
It spawned a number of spin-offs. Some were successful, others were not. Emmis bought the magazine group in 1999.
The magazine, which brings in an estimated $10 million in annual revenue, has been hit hard in recent years by consolidation at the newsstand—which accounts for roughly half of the magazine's revenue mix.
Emmis also owns Atlanta, Cincinnati and Los Angeles magazines, Indianapolis Monthly, Orange Coast and Tu Ciudad.
Meet the Author
---