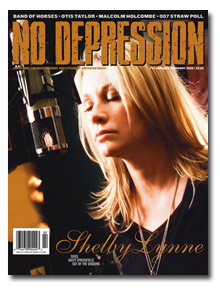 The May-June issue of No Depression—its 75th—will be its last.
The founders of the Seattle-based alternative country music magazine attribute the demise to declining advertising revenues. Those revenues, generated mostly by ads from indie country music labels, are down 30 to 40 percent, they say. The magazine's financial downturn was "not looking like a storm that we could wait out," co-founder Peter Blackstock said during a recent program on NPR. "Our concern was that (the ad dollars) had gone away and wasn't coming back."
In the March-April issue, which is on newsstands now, the publishers in a note to readers indicated that ad revenue for that issue alone was down 36 percent from the same issue last year. "Unfortunately, the ad community that shares (No Depression's) interest doesn't have any money, and doesn't look like its going to have any money in the foreseeable future," co-founder Grant Alden said during the program.
No Depression was first launched as a quarterly in September 1995 and switched to bi-monthly the following year. Despite the folding of the print version, Alden and Blackstock expect to expand the magazine's presence online.