Counterterrorism Magazines in War Over Titles

New publication accused of violating federal trademark laws.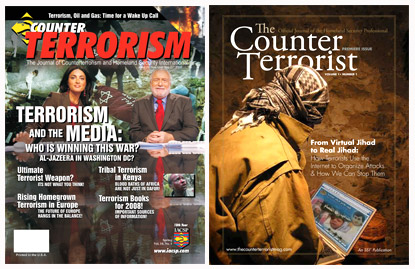 The International Association for Counterterrorism & Security Professionals Friday issued a cease and desist notice to the publishers of a soon-to-launch counterterrorism magazine, claiming that the new magazine's title is confusingly similar to theirs.
"They haven't published yet, but they have called some of our advertisers who have since called me back a bit confused," IACSP director of operations Steve Fustero says of The Counter Terrorist: The Official Journal of the Homeland Security Professional. The IACSP's flagship publication is called Counter Terrorism: The Journal of Counterterrorism & Homeland Security International.
The new magazine is published by Miami-based Security Solutions International—a group that develops and delivers counter terrorism training for first responders in the U.S. and abroad. The magazine is slated to launch in April.
"My advertisers thought the advertising solicitation was from us since the name of their magazine is so similar" Fustero continues. "That's causing confusion on a small scale right now, but looking down the road, I can see it being a major headache."
War on Counter Terrorism
SSI's Counter Terrorist will be a full-color glossy, initially distributed to more than 10,000 verified SSI subscribers, president Henry Morgenstern said in a December interview with FOLIO:. Published for more than 14 years, IACSP's Counter Terrorism is quarterly and has a 20,000 circulation.
To further confuse matters, SSI is actually an advertiser in IACSP's Counter Terrorism magazine.
According to the cease and desist notice, IACSP is calling for SSI to stop "making false statements" implying that it's the Counter Terrorist magazine "was the first and/or is the only such publication in the marketplace." The notice also calls for SSI to stop representing that the magazine is in any way affiliated with IACSP and its publication.
If SSI does not comply with the notice and "if the confusion begins to disrupt our business," Fustero says IACSP will "take all appropriate legal and/or equitable action," including suing for damages and seeking injunctive relief.
When contacted by FOLIO: Friday, SSI president Morgenstern declined to comment.
Meet the Author
---