A Costly Palin Revolt at Us

What happens when 10,000 subscribers (reportedly) cancel over a cover?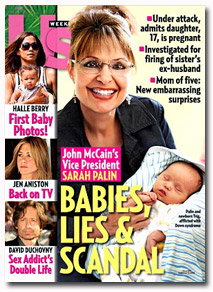 Us Weekly's Sarah Palin "Babies, Lies and Scandal" cover—as timely as it may have been—appears to have backfired.
As many as 10,000 people are said to have cancelled their subscriptions to the Wenner Media title last week after the issue hit newsstands, according to a report on MSNBC.com that cites a "well-placed" industry source. Some of those who supposedly called in their cancellations did so before even receiving their copy in the mail, the report said.
A Wenner spokesperson did not return a FOLIO: request for confirmation and/or comment.
If there's any truth to this report, what does this mean for Us? According to the first half 2008 statement Wenner filed with the Audit Bureau of Circulations, the average yearly subscription to Us sells for $64.87. That, times 10,000 equals about $650,000 in lost revenue.
Of course, the actual figure depends on whether the reader signed up for a 12- or 18-month subscription and how far into a subscription they were before they cancelled.
It may turn out to be a bump in the road. Us reported 1.9 million in total average paid circulation during the first half—1.03 million from subscriptions, 869,364 from newsstand. Subscriptions were up about 14 percent from the same period last year.
Meet the Author
---