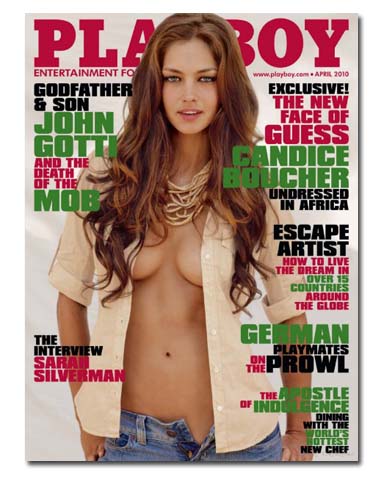 About five months after farming Playboy magazine's advertising sales, circulation, marketing, production and all other business operations to American Media Inc., parent company Playboy Enterprises reported a net loss during the first quarter of $1 million. That's compared to a $13.7 million net loss during the same period last year.
Total net revenues for the period were $52.1 million, down about 15 percent from $61.6 million last year. "We are clearly making progress in our efforts to more effectively monetize the Playboy brand and return the company to sustained profitability," CEO Scott Flanders says in a statement. "The extensive cost-reduction initiatives implemented over the last 18 months were responsible for the improved first quarter results and contributed to the significant narrowing of losses in our domestic magazine, the increase in Entertainment Group operating margins and the Licensing Group returning to its highest level of profitability since mid-2008."
Playboy's print/digital segment reported a $1.1 million loss through the first three months, down from a $3.6 million loss during the same period in 2009. "The group's revenues were down 30 percent in the same time periods to $18.2 million from $26.1 million, reflecting the company's decisions to lower Playboy magazine's rate base and to combine the first issue of 2010 with the last issue of 2009 into one editorial package, which was recorded in the 2009 fourth quarter," the company says.
While Playboy's domestic magazine revenues declined 48 percent to $7.1 million from $13.5 million in last year's first quarter as a result of these measures, the company says its first quarter results showed an improvement "due to the resulting reduction in manufacturing and shipping costs, as well as lower subscription promotion costs and the implementation of other expense-control measures."
Playboy says it has resumed publishing 12 issues annually and expects to record revenues for three issues during the second quarter this year.
Digital revenue was $8.3 million, down about $ 1 million from the previous year's quarter, reflecting reduced pay site sales, the company says. Licensing profits grew 17 percent to $6.5 million based on $9.9 million in revenue.
More Outsourcing to Come?
Flanders says the company's goal, essentially, is to transition Playboy to a brand management company. "Our first priority is to outsource, partner or license those of our operations that can be more efficiently handled by other companies," he says. "Already we have completed two major deals, and we are pleased with what we are seeing from our partners thus far.  
"The outsourcing model not only streamlines our organization," he adds, "it also allows us to reduce our focus to strengthening our core competencies and to growing the high-margin, high-potential businesses that we will continue to operate."