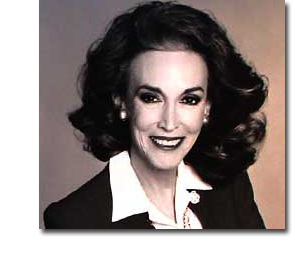 Helen Gurley Brown, who made Cosmopolitan an American and worldwide institution during her 1965-1997 stint as editor-in-chief, passed away this morning (Aug. 13) at New York's Columbia Presbyterian Hospital. She was 90 years old.
Hearst Corp. president/CEO (since 1979) Frank A. Bennack, Jr., said in a statement that "it would be hard to overstate the importance to Hearst of [Brown's] success with Cosmopolitan, or the value of the friendship many of us enjoyed with her. Helen was one of the world's most recognized magazine editors and book authors, and a true pioneer for women in journalism—and beyond.
Below is the tribute that FOLIO:'s sister publication min paid to Helen Gurley Brown when she turned 90 on Feb. 18:
It is well-known that the Arkansas-born Helen Gurley Brown's "résumé" when hired in 1965 by the late Hearst Magazines president Richard Deems (1913-2009) was her seminal Sex and the Single Girl (Simon & Schuster/1962), but what is less known is that Brown had zero editorial experience when she first met Deems and the Hearst hierarchy. As min reported (April 11, 1990) at Brown's 25th anniversary:
She went to Hearst with the idea for a new women's magazine…one that would be sexy, uncompromising, and with an editorial philosophy of women to fulfill themselves in all aspirations from career to fashion to home life to relationships.
Impressed, Hearst executives reasoned that instead of starting something new, why not adapt Brown's innovative approach to a magazine that needed an infusion of fresh thinking—their own [since 1886] Cosmopolitan. And the rest, as they say, is history.
Indeed. In 1965, Cosmo's circulation was 782,000; ad pages, 355; and ad revenues, $1.5 million. The latter was chump change next to the $159 million generated in 1995, so who would argue that Brown is the greatest magazine turnaround artist in history?
Under current Cosmo editor-in-chief (since August 1998) Kate White, the 2012 rate base has soared to 3 million (nearly half from the newsstand) and the $390 million ad revenues reached last year makes the 1995 sum look like chump change. But the soul of the Fun, Fearless Female branding by White and publishing director Donna Lagani (whose since-1995 tenure intersected her with Brown) in print, digital/apps, events (Fun, Fearless Males/Females, Bachelors, etc.), radio (Sirius XM), television (Canada), and more is Brown's Cosmo Girl.
The magazine's candidness about sex and relationships has gone from Brown's one-of-a-kind (remember the Burt Reynolds pictorial in 1971?) to many imitators, but there is only one Cosmo.
And only one Helen Gurley Brown. That Cosmo International has expanded to 60-plus editions in such heretofore unthinkable places as Armenia, Israel, Malaysia, Mongolia, and Vietnam gives true meaning to Make Love, not War. Sex and the Single Girl was the first of 11 books by Brown (many were best-sellers), and she serves as a role model and inspiration for women throughout the world.
Now, she is a philanthropist, with the $30 million donated by her in the memory of her late husband David Brown (the Jaws/Cocoon/Driving Miss Daisy producer was a legend in his own right) to the journalism school at Columbia University and to the engineering school at Stanford University. The David and Helen Gurley Brown Institute of Media Innovation is quite a legacy to a woman whose influence will be long remembered.
And we are honored to step into her parlor.