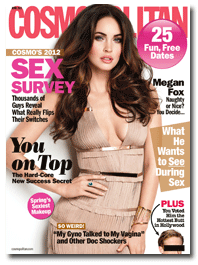 Cosmopolitan topped 115,000 digital subscribers last month, making it the first Hearst title to break 100,000 and perhaps marking renewed reason for hope among magazine publishers.
"We've crossed one small threshold but a threshold nonetheless," Hearst Magazines EVP/GM John Loughlin told AD. "We see this as further evidence that the opportunity for magazines in the tablet and e-reader space is truly significant and I hope even historic."
According to Loughlin, three-quarters of the 115,000 are annual subscriptions, priced at $19.99. About 10 percent are month-to-month recurring subscriptions, priced at $1.99 each and amounting to $23.88 annually, an option currently available only through Apple. The remaining 15 percent is average monthly single copy buys, priced the same as print at $3.99.
"For all intents and purposes, this growth has really occurred over the last nine months," Loughlin says. While the 3 million-circulation magazine launched digital editions on the Zinio platform as early as 2005, much of this uptake is the result of the iPad's launch in April 2010 and the Kindle Fire's launch last fall. The title has experimented with brand extensions such as Cosmo for Guys on the iPad—a move, according to Hearst Magazines president David Carey, that enables the company to "test new concepts without a significant capital investment." 
Loughlin attributes Cosmo's digital success in part to its being "available and visible on all the major storefronts and devices" through Apple, Zinio, Barnes & Noble and Amazon Kindle. He adds that Cosmo's younger, more affluent, and better-educated demographics are a "perfect match" with those of tablet and e-reader users.

Testing the Paid Subscription Model
Unlike counterparts Time Inc. and Condé Nast, Hearst has been known to avoid bundling digital subscriptions for free with print. According to Loughlin, Hearst has been testing a variety of price points and combinations—including options to purchase print with an incentive to buy digital or to bundle print and digital at a higher-price—but the company is still committed to digital subscriptions as an additional revenue stream.
"We're still in the early stages of learning," he says. "We're certainly not at a place to draw any conclusions. I think the one conclusion we feel good about, and it's validation of our strategy, is that customers will in fact pay for content on this new platform. For us, it appears to be a very good business decision to establish right out of the gate with this new device that our content has monetary value. We are not giving it away with a print subscription, and our consumers are willing to buy into that. And we think that bodes well for magazine publishing into the future."
Across all of its titles, Hearst says it has sold more than 500,000 digital subscriptions and expects to double that number to one million by the end of this year.