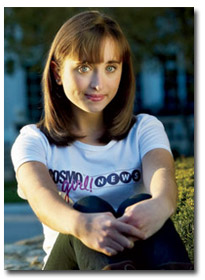 Taking a page out of MTV's Rock the Vote! playbook, CosmoGirl! has hired a pair of teenage correspondents as political reporters to cover the 2008 presidential race.
Glenna Schubert, an 18-year-old Washington, D.C.-based college student, will write about the race from the nation's capitol. Katie Glueck [right], 18, a Kansas high school senior, will serve as traveling correspondent. Glueck was in Iowa last week and in New Hampshire earlier this week for the first round of primaries. Both young women are filing blog posts and video dispatches for CosmoGirl.com.
"Katie has a keen interest in politics and the issues that affect and interest our readers, such as college tuition, global warming and the war in Iraq," says CosmoGirl! executive editor Chandra Czape Turner.
To fill the correspondent position, CosmoGirl conducted a nationwide search, publishing a call for applications in the editor's letter in the print magazine. "Katie we felt was the best of the lot—a keen reporter who wasn't afraid to ask the tough questions in a sea of adult reporters and politicians," Turner says. "Part of Katie's job is to talk with readers about what issues they think are most important and then finding out from the candidates about how these issues are represented in their platforms."
Glueck will be traveling to South Carolina next week for the Republican primary.
So far, Turner has been pleased with the copy turned in by their pair of cub reporters. "We already have a nice dialogue going on from our readers," Turner says, adding that she expects reader engagement to increase as the election draws closer.