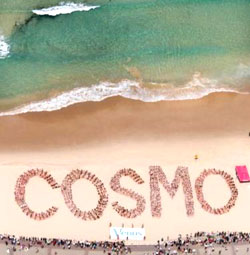 Here's a magazine event that is scandal-proof and UAB-free: the Australian version of Cosmopolitan attempted to set a Guiness World Record last week by gathering
over 1,000 bikini-clad babes-1,010 to be exact-on Australia's Bondi Beach.
The magazine advertisements recruited the beauties in Cosmopolitan print
advertisements and a micro-site, 30 Days of Fashion and Beauty.
The girls, of course, spelled out "C-O-S-M-O."
Takeaway for publishers: Get 1,010 bikini-clad Australians to spell out your magazine's name at your next event.