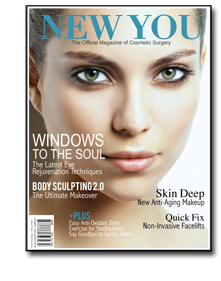 The American Academy of Cosmetic Surgery is gearing up for the launch of its first print magazine: New You. The quarterly publication is set to publish at the end of the month and will target consumers who are considering having cosmetic surgery.
According to editor-in-chief J.P. Faber, the mission of the magazine will be to overcome the "stigma" of cosmetic surgery and make it more mainstream and part of an overall health and beauty regimen. He told FOLIO: that publishing a print magazine is necessary in distinguishing the association's content from the "horde" of Web sites that already cover the subject of cosmetic surgery.
"While our presence online is vital, we believe niche magazines still have great potency, especially when they are delivered to a highly qualified audience," said Faber. "The area that we are covering is also highly conducive to strong visuals and good photography—elements that are still delivered with greater potency in print than in online."
Editorially, New You will be managed by a board of editorial directors made up of top AACS doctors. The magazine will carry a 250,000 circulation—the bulk of its distribution (200,000 copies) going to the waiting rooms of the association's 2,500 member doctors. Another 20,000 copies will be distributed to hotels, spas, dentist offices and the offices of groups that are affiliated with the association. The remaining 30,000 copies will be available on newsstands and carry a $4.95 cover price.
New You's primary revenue driver will be advertising, "both from the product side and the doctor side," Faber said. "We believe that doctors' offices are one of the last places where a 'captive audience' still exists. Also, by delivering to this particular audience, we can offer our advertisers a qualified demographic from the onset."
Founded in 1985, the AACS represents cosmetic surgery practitioners and is a member of the American Medical Association. Miami Beach, Florida-based Knightsbridge Media LLC will publish New You for AACS.