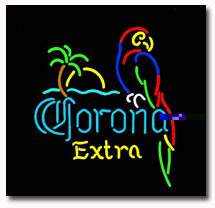 This is a great story you can use on a sales calls to put the importance of "search" into perspective, especially if you find an advertiser who is giving "search" total credit for sales that your media is helping to make. I heard this start off a Webinar led by
Young-Bean Song, VP Analytics at the Atlas Institute kicked off a Webinar recently by asking the audience to imagine they were in charge of Corona's marketing and had just observed that many people who walked by a neon Corona sign on their way into a bar bought a Corona. If you saw this behavior, you could conclude that the sign caused the sale. Then, you might think about dropping all TV, radio, and magazine advertising to put your entire marketing budget into neon signs! Sounds ridiculous. But this is what advertisers do when they give all credit for a sale to "search" as they look only at the last ad viewed, or that last click made before a sale.
How to use this anecdote on a call:
First off, don't bash search. Search is an essential tool that all smart advertisers should be using. Instead, use this story to start a discussion that puts your media into perspective with search so they are both viewed as important. Then ask, "Before people go to search, what media do you think are influencing their behavior?" Or, "What media messages do you think makes a potential customer initiate a search?"
Watch the Atlas Webinar here …