Cool Magazine Alert: Performing Songwriter

Sometimes the best discoveries can occur when browsing the racks.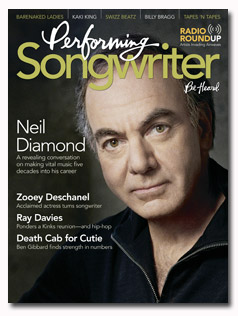 How did you spend your Memorial Day? I spent mine at the local Books-A-Million browsing the magazine rack, something I don't get to do as much since leaving Manhattan. Typically I'll go into local bookstores to see how my own pub, Southern Breeze, is doing. Much to my chagrin, Southern Breeze wasn't being sold. Were they sold out? Nope, they don't carry it. Odd, considering our offices are less than a mile from this particular outlet.
But my chagrin is not the topic of this blog. I wanted to let other magazine pros know about a really cool publication you may not be familiar with: Performing Songwriter. In perusing the racks, I spotted the latest issue due to its cover subject, Neil Diamond. However, when I opened the pages, I was not just pleasantly surprised. I was blown away!
Granted, the reason I bought the issue was due to my fan boy's devotion to Neil, but after leafing through the rest of the book, I immediately became a fan. The cover story article was extremely in-depth and not only featured an opening two-page spread that rivals any lifestyle glossy but the story itself was packed full of information that was not only relevant to the publication's target audience—song writers who perform—but also accessible to a casual reader like myself.
The article was a mix of a typical profile and a Q&A mixed in with various sidebars highlighting Diamond's music, stories behind the songs, and more. In short, it was all an interested songwriter or Neil Diamond fan could hope for. The sidebars are the epitome of what I consider to be great sidebars—relevant information that is not simply regurgitated high points from the main feature.
Founding editor-in-chief, Lydia Hutchinson, even includes a sidebar on her editor's page describing her favorite CD or songwriter of the moment, which is a very cool idea and connects with the reader without resorting to stunt typical of way too many magazines these days. (Note to magazine writers: You are not the story, your subject is!)
Lydia started Performing Songwriter 15 years ago out of her guest bedroom with no business plan or funding, just a desire to create a forum for people who are passionate about the music they write and perform. "I really had no idea it would become what it has," she admits. "But it immediately hit a really passionate community that didn't have any other publication that talked about creativity and what it was like to live an artistic life; it was a place where people felt safe talking about what music means to them because they were among like-minded souls."
Aside from the Neil Diamond cover story there are also interviews with The Kinks' Ray Davies, Michael McDonald, Death Cab for Cutie, Zooey Deschanel and many more. Not a bad lineup for a magazine you've never heard of!
Performing Songwriter also has its fair share of CD reviews as well as interviews with mixers, producers, and other pros in the music industry. Recording equipment also plays a large role in the magazine and several products are reviewed—some in great detail—within each issue. Despite the number of big names in the issue, Performing Songwriter has an intimate feel, almost like it's for a select few, and in a way, it is.
Lydia stressed that she's neither a songwriter nor a performer—she just loves music. This further solidifies my opinion that you don't have to be an "expert" in a field to oversee a publication dedicated to it. But you should have at least some passion for your subject otherwise your magazine will be somewhat insincere and subpar.
As an added bonus, the Web site is pretty cool too.
Feel free to share your own stories of magazines you've discovered over the years that fall outside your own "comfort zone" in the comments section.
Meet the Author
---