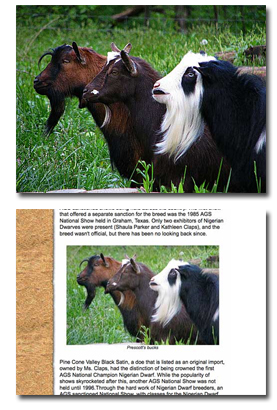 In terms of online copyright issues, if you thought the Cooks Source fiasco that went viral recently was completely ridiculous, then what happened with—yes—Dairy Goat Journal should prove nearly as disturbing, although perhaps slightly less weird.
I'll get back to the goats in a moment. First, for those who somehow missed it, a small Western Massachusetts-based cooking publication called Cooks Source was jettisoned out of obscurity and came under fire this month after writer Monica Gaudio discovered that a story she wrote in 2005 was repurposed by the magazine, without Gaudio's consent, or attribution or payment to her. Gaudio subsequently contacted Cooks Source and received a response from editor Judith Griggs. Here are a couple bits pulled from Griggs' arrogant yet ignorant response, published on Gaudio's blog:
"But honestly Monica, the web is considered 'public domain' and you should be happy we just didn't 'lift' your whole article and put someone else's name on it! … If you took offence and are unhappy, I am sorry, but you as a professional should know that the article we used written by you was in very bad need of editing, and is much better now than was originally. Now it will work well for your portfolio."

Unbelievable. Anyway, in the days following, the story became news all over the Web (covered by NPR, PCMag.com, The Economist—even by Australia's Sydney Morning Herald). On November 4, Cooks Source shut down its Web site as well as its Facebook fan page, which was overrun by nasty comments. The publication said all the negative attention hurt its business but that it was going to donate $130 to the Columbia School of Journalism, at Gaudio's request.
Now, on to the goats. Although it didn't make national headlines like the Cooks Source ordeal, a similar situation unfolded recently at Countryside Publications' Dairy Goat Journal. On November 10, Suzanne McMinn took to her blog about a photo of hers [pictured, top] that she says she took in 2008. According to McMinn, the photo was published in the November/December 2010 issue of Dairy Goat Journal [pictured, below the photo] as well as its Web site without her permission, attribution or payment.
McMinn said she contacted Countryside Publications publisher Dave Belanger (Countryside also publishes Countryside & Small Stock Journal, Backyard Poultry Magazine and sheep! Magazine), requesting several things, among them a $2,100 payment for the "unauthorized" use of her photo. After McMinn was supposedly rebuffed by Belanger over the phone, angry comments began flooding a write-up we did about Belanger (we didn't publish most of the comments). I assume many of the same people also contacted Countryside directly with their frustrations.
I contacted Belanger, too, that same day, to find out what was going on. After playing phone tag, I sent him an e-mail telling him about the comments and why I was contacting him. Although he didn't respond to my e-mail, I noticed the following day that a new post was up on McMinn's blog. It said Belanger "wanted to make it right" and agreed to send McMinn a check for $2,100.
So, both debacles ended happy, mostly. But even though publishers like Cooks Source and Countryside Publications are operating with limited resources (our profile of Belanger described Countryside as a "lean operation"), the lesson to be learned or re-learned here is that there is no excuse for ripping off someone else's content without credit. Not even in this willy-nilly Internet world where content is mostly freely accessible online.  
[Images via ChickensintheRoad.com]