Content Subscription Site NSFW Corp. Expanding into Print

Initial print run capped at 5,000 copies.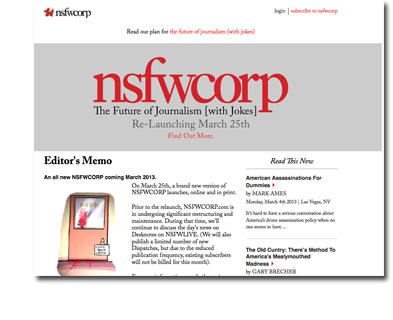 Paul Carr, a former TechCrunch writer, is prepping a relaunch of his NSFW Corp., a subscription-based content site featuring a comedic spin on current and world events that he launched last year.
The launch touched a nerve among media watchers, much like Andrew Sullivan has more recently done with his subscription-only site The Dish, mainly because it aims to thrive only on reader revenues, no advertising, on a small-market niche scale.
Throughout, Carr has been loudly vocal about his company's seemingly against-the-grain strategies. From a recent blog post: 
"Our entire business is an anachronism. A  throwback to old media. An attempt to cling on to a bygone era where news organisations would maintain newsrooms, from which editors would send journalists off to far-flung locations, to spend weeks or months reporting a story that may or may not ever be published. And where those stories that do make it to press are first subjected to a barrage of fact-checking, copy editing, art directing and re-editing — before being locked behind a paywall marked "KEEP OUT, SUBSCRIBERS ONLY!"
He's delighted in showing how a digital media company can succeed using old-media strategies. Indeed, NSFW's content is, more often than not, long-form investigative content. Carr cites a story during the election cycle that involved renting a house for a reporter to live in Salt Lake City and report on local residents' impressions of Mitt Romney. "They can be heavily embedded, heavily personal stories about real subjects where we send real reporters to real places," he says.
The company has also raised between $600,000 and $750,000 in venture capital, mainly from VegasTechFund, which was started by the Zappos founders.
Along the way, the company has experimented with ways to draw more subscriptions. The porous paywall approach—allowing some content outside the wall for free—didn't work, he says, and only served to deprogram visitors to the whole paid content concept.
"It didn't work because people were just happy with what they had. We had to set up that expectation that this is a high-quality piece of writing and you should pay for it."
What has worked better is a content unlocking feature that allows current subscribers to unlock up to 10 articles a month, giving them 48 hours to share and push out a story for free. That story acts as a lure back to the site and a potential subscription conversion. Once the 48 hours are up, the link stops working.
Subscribers whose shared links end up converting new paid readers are given credits for free subscription months.
The company also shunned the practice of allowing writers access to their own traffic numbers, or incentivizing them through those metrics. Carr argues that tactic only serves to dumb down the content, training writers to prioritize numbers over good writing. "We tell them to just do good work and we'll worry about the business side," he says.
There is no commenting feature, either. "Comments are not community," says Carr. "That's just for trolls and dickheads who can't read past three lines."
Engagement and a sense of community  are nevertheless important elements, and Carr points to NSFW's "Desknotes" feature that allows subscribers to witness behind-the-scenes editorial planning meetings and discussions.
Using the Yammer platform, Carr says there was a lot of content going back and forth between writers and editors that potentially had value for readers—story pitches, the edit discussions surrounding those and the thrill of eavesdropping on the process.
In the company's latest iteration, slated to launch on March 25th,  some of those old-media qualities are taking on an even greater prominence. A smaller-run print magazine will be added to the product bundle.
Print, argues Carr, makes a fitting format for NSFW's longer-form content. A lengthy blog post from Carr explains why they've made the choice for print, but it boils down to product expansion, a fitting format for longer-form content and a convenient companion to a series of ebooks that will also launch.
"The economics of print are perfectly fine as along as you're not trying to do a newsstand celebrity magazine," he says.
Customers can subscribe to the magazine for $7 a month, which includes access to the website. All of the stories in print will be original.
The initial print run will be capped at 5,000 subscriptions due to logistics and the strategy's proof-of-concept approach.
So far, Carr says NSFW Corp. has passed 3,000 subscribers paying $3 per month, a benchmark it reached several months ago. About 30 percent of those subscribers have converted to an advance offer for the print/digital bundle. A non-subscriber offer will go out starting next week.
"If everything continues with no nasty surprises, we'll be profitable by the end of the year," says Carr.
Meet the Author
---