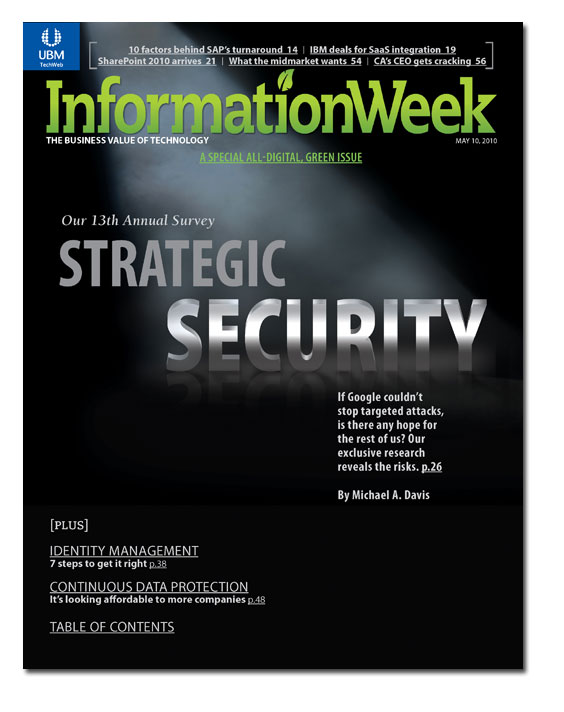 In 2009, UBM TechWeb's InformationWeek launched four digital editions as part of a broader, multi-year "green strategy" to reduce the magazine's carbon footprint. While the digital editions weren't viewed as moneymakers at the time, the four digital editions averaged between 10,000 and 13,000 downloads each and generated $500,000 in advertising revenue combined, according to senior vice president and group publisher John Siefert.
Based on that success, InformationWeek accelerated its digital edition strategy in 2010, upping the frequency to 12x and breaking down the overall editorial calendar to focus on specific topics for the digital issues. So far in 2010 the digital editions have averaged between $150,000 and $300,000 in sponsorship revenue per issue and the May 10 issue on strategic security generated 15,000 downloads in two days and more than $300,000 in revenue.
The InformationWeek digital editions are available via a downloadable interactive Adobe PDF. "Once you go down this path, it's easy to start overcomplicating things by thinking 'Here's the latest whiz-bang thing you can apply, whereas in reality, our users said they didn't want whiz bang, they want something they can read on any platform, be it mobile, Kindle or their computer," says Siefert. "Just make sure it's interactive so readers can click around and click out to deeper reports."
InformationWeek focused the May 10 digital edition around its Strategic Security issue, a researched-based issue that's always one of the most popular of the magazine, selling 12 advertisers against it.
Advertisers are offered lead gen packages with each issue (priced on a cost-per-lead model of about $75 per lead). "I'm a firm believer that content is self-fulfilling filter," says Siefert. "If you think about lead generation as an inverse pyramid, at the base is where you have white papers. The reason we see it that way is that includes a lot of vendor content and we get a lot of lookey-loo people who download a white paper. We set a cheaper price around white papers of about $30 CPL but as you click down and get closer to the tip of the pyramid the price per lead increases based on the content we're creating. The big reason why these digital editions have taken off is you can capture information on people downloading an issue around a specific topic as they're closer to making a buying decision."
While digital editions continue to be seen as value added by many publishers, InformationWeek has embedded them into the sales strategy. "Instead of saying 'Holy cow, here's another digital issue I have to sell on top of everything else,' we look at it from a capacity planning perspective," says Siefert. "In any given month, salespeople have X number of ad pages or digital issues or Webcasts or impressions on the network we can sell."
"Do We Really Need an iPad App?"
TechWeb is expanding the digital edition approach to its other brands including those within the Financial Services group, which is producing digital editions and supplements for magazines like Wall Street & Technology and Bank Systems & Technology. Last month InformationWeek launched a digital edition supplement called InformationWeek Boardroom Journal about cloud servers which was underwritten by a single sponsor (Workday) and has seen thousands of downloads.
InformationWeek is considering its options with emerging channels such as the iPad and mobile devices but Siefert says the brand needs to be sure what role they will play "Organizations like NPR and Wired are doing interesting things with these applications but from the reader's perspective, how are they going to interact with it?" he adds. "Right now readers can download our digital edition onto their iPad via the browser. What is the user going to really desire from an iPad app from InformationWeek?"