Content Marketing Institute Launches Content Marketing Channel

Partners with PR Newswire to feature original and curated content.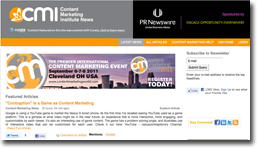 The Content Marketing Institute is launching an online channel in partnership with PR Newswire that will exclusively focus on news and information in the content marketing sector.
Found at news.contentmarketinginstitute.com, the Content Marketing Channel will include both original and curated content from the marketing services sector to better serve "marketers [who] are thinking and acting more like publishers," according to a prepared press statement.
The Content Marketing News Channel, built on the Curata platform from Hivefire, is set to post between 10 to 15 stories a day, and an e-newsletter will be delivered to news subscribers. The site will be lead by tech journalist Gary Kim.
"There are literally hundreds of information sources on the web, in the form of media sites, blogs and branded sites, that talk about content marketing, but there isn't one place to go to get 100 percent content marketing all the time," says Joe Pulizzi, CMI's executive director, in a prepared statement.
Meet the Author
---