Content Marketing Agency BlueGlass Buys UK-Based Quaturo

Deal gives BlueGlass entré into the UK's nascent marketing services market.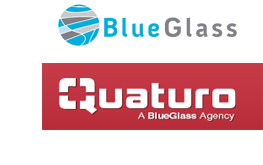 Digital marketing agency BlueGlass Interactive has acquired Quaturo, a UK-based marketing agency that was founded only 5 months ago. The deal gives BlueGlass an instant foothold in the UK and provides a launching point for future acquisitions and expansion into continental Europe.
"A big part of the deal was we wanted to be in the UK and needed to be there," says Chris Winfield, co-founder of BlueGlass. "We've dealt with a lot of international clients and inquiries and this has been on our roadmap for a while."
Winfield declined to offer details on terms of the deal.
He adds that the UK is a nascent market for content marketing services, something BlueGlass has quickly ramped up on since launching in 2010. The company likes to tout that it has not taken any VC funding, and made two acquisitions—3 Dog Media in 2010 and Voltier digital in January 2012—before picking up Quaturo. 
BlueGlass revenues are up 65 percent year over year and is profitable, it says.
The company is scaling up to take on the larger agencies like WPP, Omnicom and Publicis, attempting to maintain its boutique spin on digital and content marketing services. "There's a huge disparity in the digital marketing markets," says Winfield. "There are the huge agencies and tons of the one- or two-person companies, with a big gap in between. We feel like we can offer that boutique quality and scale it."
Post-deal, all of the Quaturo employees will join BlueGlass, including founder Kevin Gibbons, who will be joining as managing director.
Meet the Author
---