Content Management Provider Moves Services to the 'Cloud'

Mediaspectrum's Cloud Computing Platform management services on the Web.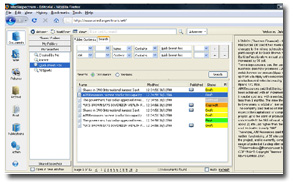 Content management and workflow application provider Mediaspectrum's advertising and editorial CMS has become the latest to join the "cloud," meaning that those applications will now be integrated as a hosted service over the Internet.
The recently released Cloud Computing Platform integrates advertising and editorial content management on the Web. Medispectrum says it allows publishers to eliminate the need to maintain office space for servers or staffers dedicated to maintaining those systems.
"We are making our technology available to any publisher as a service," Jay Cody, Mediaspectrum's vice president of marketing, told FOLIO:. "Publishers never have to buy, maintain or support the hardware or software stack again."
The hosted service is divided into two "clouds." The advertising cloud contains an ad sales portal that allows publishers to manage multi-channel advertising campaigns for print, Web and rich media. Advertisers can access account information, make edits and build ads online. Meanwhile, the "AdWatch" function, according to Mediaspectrum, enables production departments to implement digital workflows so staffers can track and edit any ad element.
The "ContentWatch" functionality of the content management cloud enables publishers to upload articles, photos, video to a centralized infrastructure and allows for sub-editing from "virtually anywhere."

Technology Behind the 'Cloud'
Developed in-house, Mediaspectrum's Cloud Computing Platform is built on a Java-based  architecture and utilizes APIs to allow customers to create applications using PERL, Ajax, HTML, ASP, ColdFusion Web-side scripting languages, as well as "thick" applications using the REST interface.
"In our platform, all content and metadata are available via API's, meaning external systems can access content on demand," Cody said. "The failure of legacy systems which addressed content management is that they were specifically built to handle and manage channel specific content and workflows. They are usually closed, vendor controlled systems that do not readily lend themselves to third parties getting access to data."
Cody said the Cloud Computing Platform leverages an "enterprise-grade technology stack" that includes Oracle databases, IBM WebSphere for application servers and portal servers.
Per-Transaction vs. Monthly Subscription
Mediaspectrum said it is targeting the Cloud Computing Platform to publishers of all sizes. Although he declined to offer specific costs, Cody said prices vary depending on two models.
Publishers can opt for a pricing-per-transaction model that allows them to "get live quickly with very little upfront expense" and to be charged based on usage. Another model is based on monthly subscriptions or licenses, Cody said.
Meet the Author
---