Consumer Reports Launches Redesign

Magazine taps Luke Hayman for new look, logo.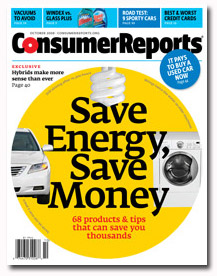 Consumer Reports tapped renowned consultant Luke Hayman to help launch a major redesign, unveiled with the October issue which hits newsstands today.
Hayman, a designer with Pentagram, worked with Consumer Reports creative director Tim La Palme to develop the magazine's new look. The redesign features a new logo, a simplified color palette, re-organized editorial sections, an updated ratings section with new best buys and recommended products logos, a new section for updates on "big-ticket" products and a new Q+A feature section.
Hayman in July signed on with Manhattan Media to help redesign Harvard "lifestyle" magazine 02138, which the community newspaper and magazine publisher acquired earlier this year. In February, Hayman was hired by Radar magazine as a creative consultant.
Consumer Reports-which is published by Yonkers, New York-based nonprofit the Consumers Union-has experienced significant growth over the last five years, the publisher said, with newsstand sales reaching 190,000 in 2008, up from 83,845 in 2002. Subscriptions this year are 4.3 million, up 12 percent from 3.9 million in 2002.
ConsumerReports.org has 3.2 million paid subscribers making it the largest paid subscriber site in the world, according to the publisher.
Meet the Author
---