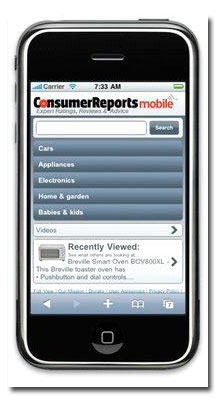 Consumer Reports has launched CR Mobile, a new mobile Web site that allows users to access the magazine's database of product reviews, ratings, buying advice and reliability studies.
The data provided by CR Mobile is accessible through any mobile device with Web access. Users of iPhone and Android phones will also be able to access video in addition to the standard data. The service is free for current subscribers of ConsumerReports.org. Non-subscribers can access the site for 24-hour or 30-day periods for $0.99 and $4.99 respectively.
Poll results, user reviews and blog posts are also available on CR Mobile. Users can also sign up to receive product safety and recall alerts via SMS by texting the word SAFE to 76666. The site also has a "compare" feature that allows side-by-side comparison of up to three competing products for performance and price, a function that is currently unavailable on ConsumerReports.org, but will be added later this year.
According to Jerry Steinbrink, vice president of publishing at Consumer Reports, CR Mobile was created to serve an audience that the magazine had a hard time attracting in the past. "[CR Mobile] is for those that are already out at the stores shopping," he tells FOLIO: sister publication Audience Development. "It's a great way to get information into the hands of the consumers and help them make better decisions between one product or the other. It's a good way to serve our readers at that critical point."
The data on CR Mobile is segmented by categories, including Appliances, Electronics, Home & Garden and Babies & Kids. The only category of products that is not currently available on CR Mobile is Cars, which will be added in July. "It's a bit more complicated for us to get the specs of each car on a mobile phone, so that's taking a little longer," Steinbrink says.