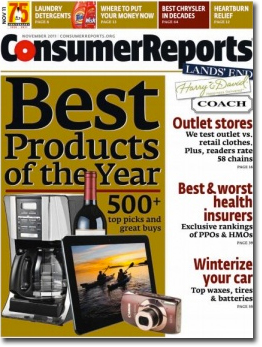 Consumer Reports is joining the ranks of publishers offering iPad subscriptions bundled at no extra cost to its print subscribers, beginning with its January 2012 issue, set to hit newsstands next week.
The brand—known for its paid content model—launched a free download of "teaser content" in late February (which, according to the magazine, has been downloaded by more than 100,000 users) as well as a full iPad issue for purchase. From then on, it has sold full iPad issues every month at $3.99 each, but without a subscription option.
Chris Moody, director and general manager of print products for Consumer Reports, says bundling print and iPad versions and offering a subscription option was part of the original strategy for the app. "But due to resources," he told FOLIO:, "we couldn't have those two capabilities live when we launched. We didn't want to wait what could have been a year to launch the iPad app."
Moody sees this move mostly as a value-add for current subscribers, and as a way of improving retention rates. It's also a way of expanding the brand's reach, he says. "We have a relatively older demographic, specifically for the magazine. This provides a unique opportunity for Consumer Reports to reach new audiences."
The subscription capability also allows Consumer Reports to capture customer data. "With single app purchases all through iTunes, we don't collect any of the customer information," Moody explains. "Now, we've integrated with our print fulfillment house and will have access to which customers are accessing the app, and we can make better decisions about what products we cover. We're also hopeful the subscription component will allow customers to opt-in for us to communicate with them directly."
This initiative is in line with the majority of publishers' efforts to be available on Apple products—about 62 percent of respondents to a recent survey from the Audit Bureau of Circulations say they have an iPhone app, while 44 percent cite having an app enabled for the iPad. But despite this move toward ubiquity, only 8 percent of respondents viewed Apple's tactics to be favorable to publishers, with many referring to frustration with fees and policies.
Moody says the biggest hurdles have been related to resources, and the need to design for multiple platforms and screen sizes while maintaining a workflow for both print and digital additions. He says Consumer Reports' next steps will be to develop an Android app, which will include designing for screen sizes of 7 and 10 inches.
The print and iPad bundle is priced at $26. An iPad-only edition will be sold through iTunes at $4.99 for a single copy, or at $24.99 for an annual subscription. Subscriptions to ConsumerReports.org—which include access to the mobile Web site as well—currently run for $26 and will include a $12 optional upgrade to add on the iPad edition.
Along with this subscription offering, Consumer Reports is also launching new paid apps, ranging from $0.99 to $2.99 per year, allowing consumers to compare ratings and deals in various categories including appliances, televisions, and baby products. It currently offers its News & Video, Safety News & Recalls, and Tipster apps for free.
As FOLIO: reported earlier this month, adults who read magazines on digital platforms make up 11 percent of gross magazine audience impressions, with digital-only consumers comprising 166 million of the total 1.6 billion impressions magazines garnered between March and October 2011, according to research firm GfK MRI. Those who read on both virtual and paper platforms represent the smallest division of the overall magazine audience, contributing 135 million impressions.